The Delaware business entity database is large and getting a name that is not registered is not easy. The Secretary of State advises people who wish to register a business in the state to take time to brainstorm on the most unique names. You must confirm if the name is available by searching the SOS website. The SOS has published different rules for naming different business entities in Delaware.
For example, if you are registering a corporation, make sure the name is unique. You must add one of the terms either in full or as an abbreviation: Incorporated, Association, Club, Company, Fund, Corporation, Institute, Foundation, Limited, Syndicate, Union, or Society.
If you want to register an LLC, you must include a designator such as L.L.C., Limited Liability Company, or LLC. You cannot be allowed to register a name with a word or phrase that is degrading, vulgar, or contain the word "Bank." Your next step is to do an LLC or Corporation search by visiting the Delaware Secretary of State Website. The types of organizations that you can search include:
Limited Liability Company (LLC)
Limited Partnership
Non-Profit Corporation (Inc.)
Public Benefit Corporation (PBC)
S Corporation (INC)
General Corporation
Delaware Secretary of State Business Lookup Contact Details
| | |
| --- | --- |
| Website | https://sos.delaware.gov/ |
| Phone | (302) 739-3073 (Voice) (302)-739-3812 (Fax) |
| Address | OFFICE ADDRESS: 401 Federal Street – Suite 4 Dover, DE 19901 MAILING ADDRESS: P.O. Box 898 Dover, DE 19903 |
| Hours | Monday — Friday: 8 a.m. to 4:30 p.m. (EST) |
| Email | Business: [email protected] |
Delaware Business Entity & Corporation Search
Lookup Delaware Corporation Search
Step 1 – Visit the Delaware Secretary of State Website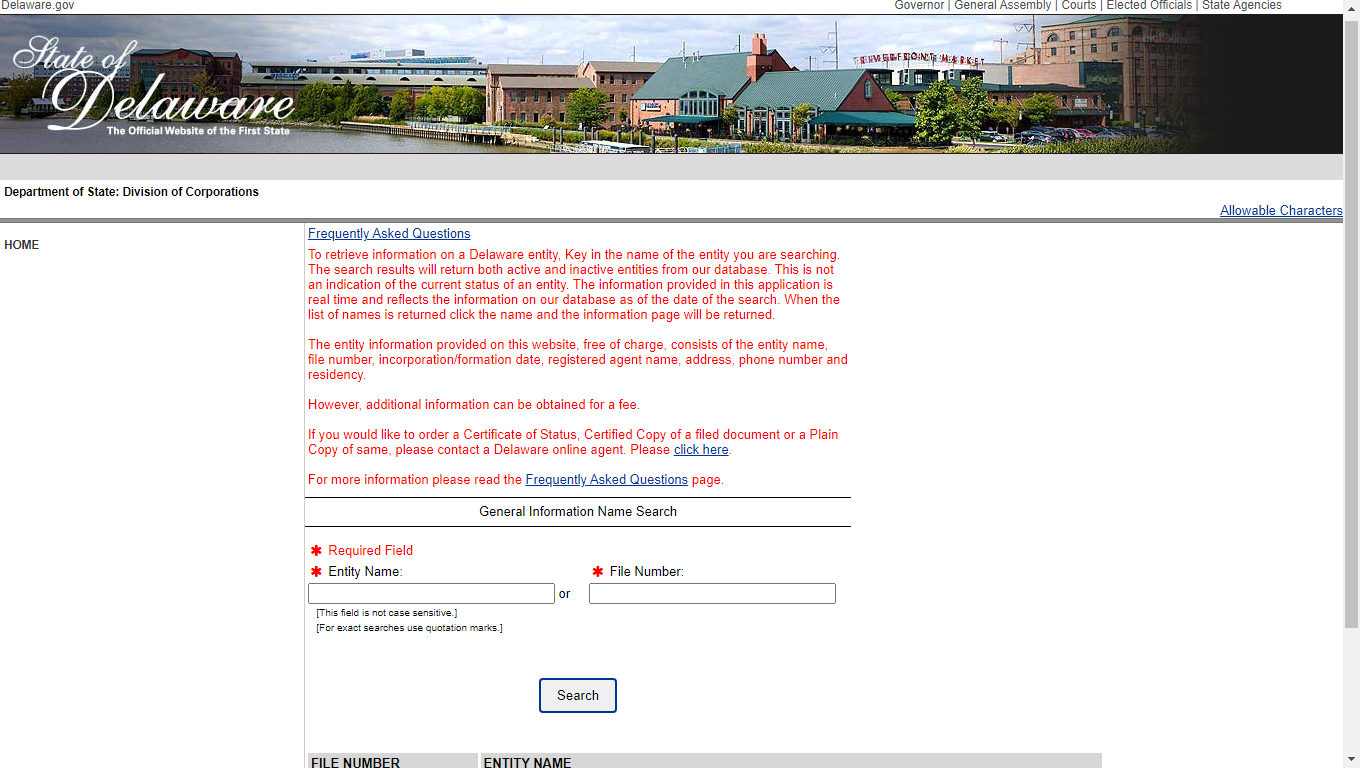 Information for Delaware corporation search is available at the official website of the Delaware Secretary of State. The business entities you can search for include General Corporations, Public Benefit Corporation, and Limited Liability Company (LLC).
Criteria for Business Name search in Delaware is done using: Entity Name or File Number. The two fields are required before the search is conducted.
The Delaware Generation Information Name Search page does not have Advanced Search options. If you want to conduct an advanced search, you can request one from the SOS but you will be charged a fee.
Step 2: Select Your Entity
After keying your options, click the search icon to generate your search results. If the name is registered, a list of names will be displayed, as shown below.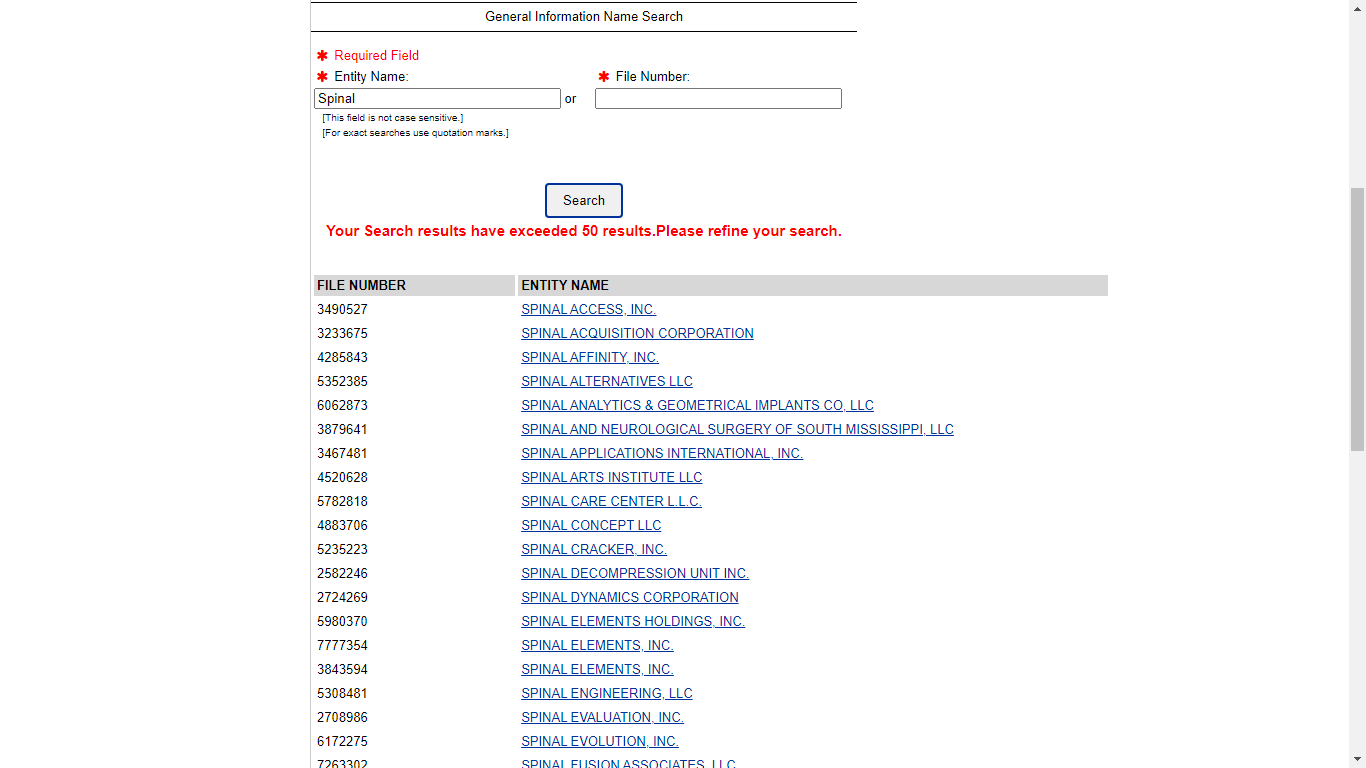 Go through the matching results one by one and sort them out. To make your lookup easier, the table issued by the Delaware Secretary of State displays both the active and inactive entities from the database. It consists of the Entity Name and File Number. Once you have located the listing you are looking for, check the Entity Name column and click the link. You will be redirected to the Delaware Corporation Search/Information Page, showing the details of the specific entity.
Step 3: Download Information
This is the last step of the lookup LLC Delaware. You now have all the registration details, including:
File Number
Entity Name
Type
Residency
Incorporation Date
State
Agent Information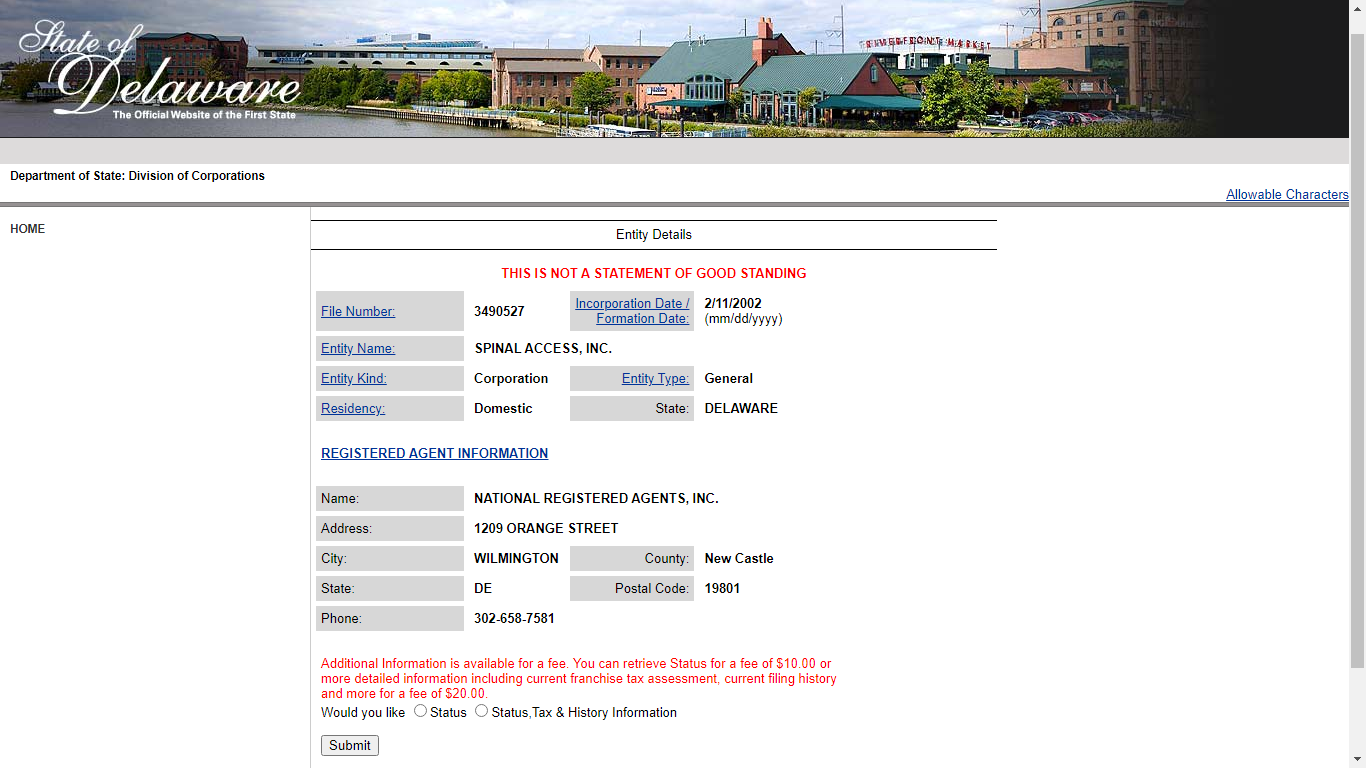 The Delaware Secretary of State allows the request for further information at a fee. To retrieve Entity Status information, you will be charged $10. Additional details such as current filing history and current franchise tax assessment are charged $20. Just click on the additional information option at the bottom and click Submit. The information will be provided during the state's SOS official business hours.
References
How to Form a New Business Entity
Find a business entity in another state