Before registering any type of business entity in Alaska, the first step is to conduct an Alaska Business Entity Search. The Alaska Secretary of State Entity search offers a large database online.
Everyone is permitted to search for any organization allowed to operate in the state. The options you may use include a search by name, registered agent, official, or number. You may conduct a lookup query on:
Alaska Corporation
Limited Liability Company (LLC)
Limited Partnerships (LP)
Limited Liability Partnerships (LLP)
Alaska Secretary of State Business Lookup Contact Details
Website
https://www.commerce.alaska.gov/
Phone
Voice: 907-465-2550 Fax: 907-465-2974
Address
OFFICE ADDRESS: 333 W. Willoughby Ave, 9th Floor
Juneau, AK 99811-0806 MAILING ADDRESS: PO Box 110806
Juneau, AK 99811-0808
Hours
Monday — Friday: 8 a.m. to 4:30 p.m. (ASK)
Email
Business: [email protected]
Alaska Business Entity & Corporation Search
Lookup Alaska Corporation Search
Step 1 – Visit the Alaska Secretary of State Website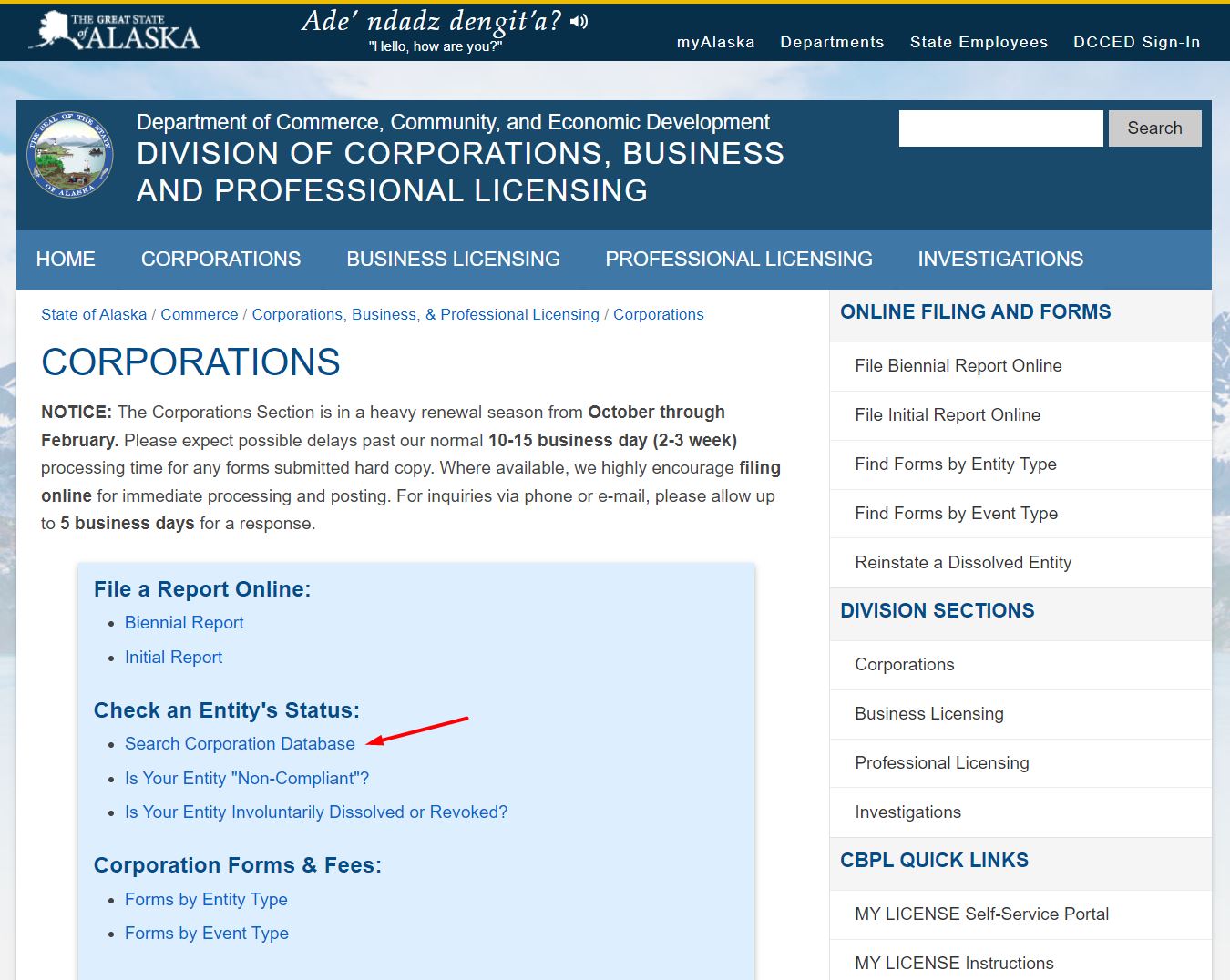 Go to the Alaska Secretary of State website and click on the Search Corporations Database page.
Enter the Entity Number on the first blank field or the entity Name of the second blank field
If you are not sure about the exact details of the entity name or number, choose either starts with or contains options. The page looks as shown below.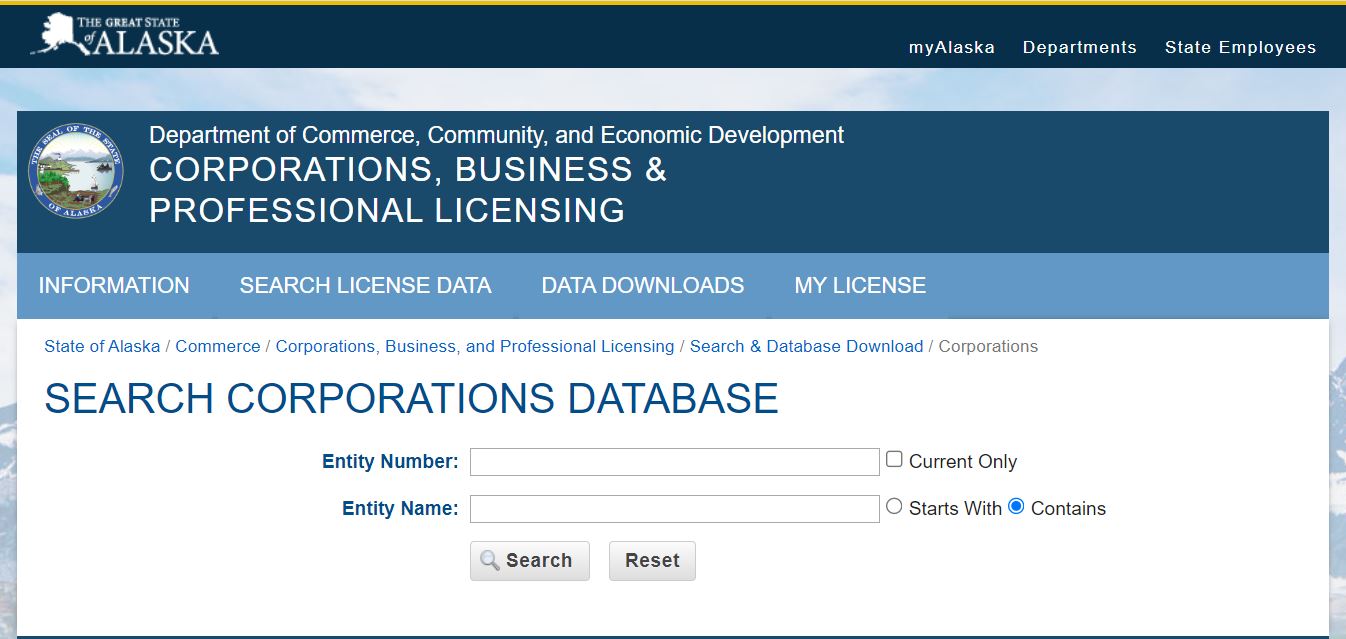 After keying your options, hit the search button. An automatic search will begin and results will be displayed below the blank field. The results will appear as shown in the image in step 2.
Step 2: Select Your Entity
The result page will display a list of entities that closely matches your search keywords. Scroll down to see the result and if you do not find the name you are searching for, click on the next arrow located below the search result.
If you fail to find the name, go back to the search field and click reset to conduct a fresh search but this time, refine your search by including more keywords. The search results will display five fields, namely:
Entity type (LLC, LLP, LC, Nonprofit Corporation, Business Corporation, etc.)
Entity Number (Registration Number)
Entity Name (Legally registered)
Name Type (Whether it is legal or not)
Status (Whether it has a good standing, dissolved, revoked, etc.)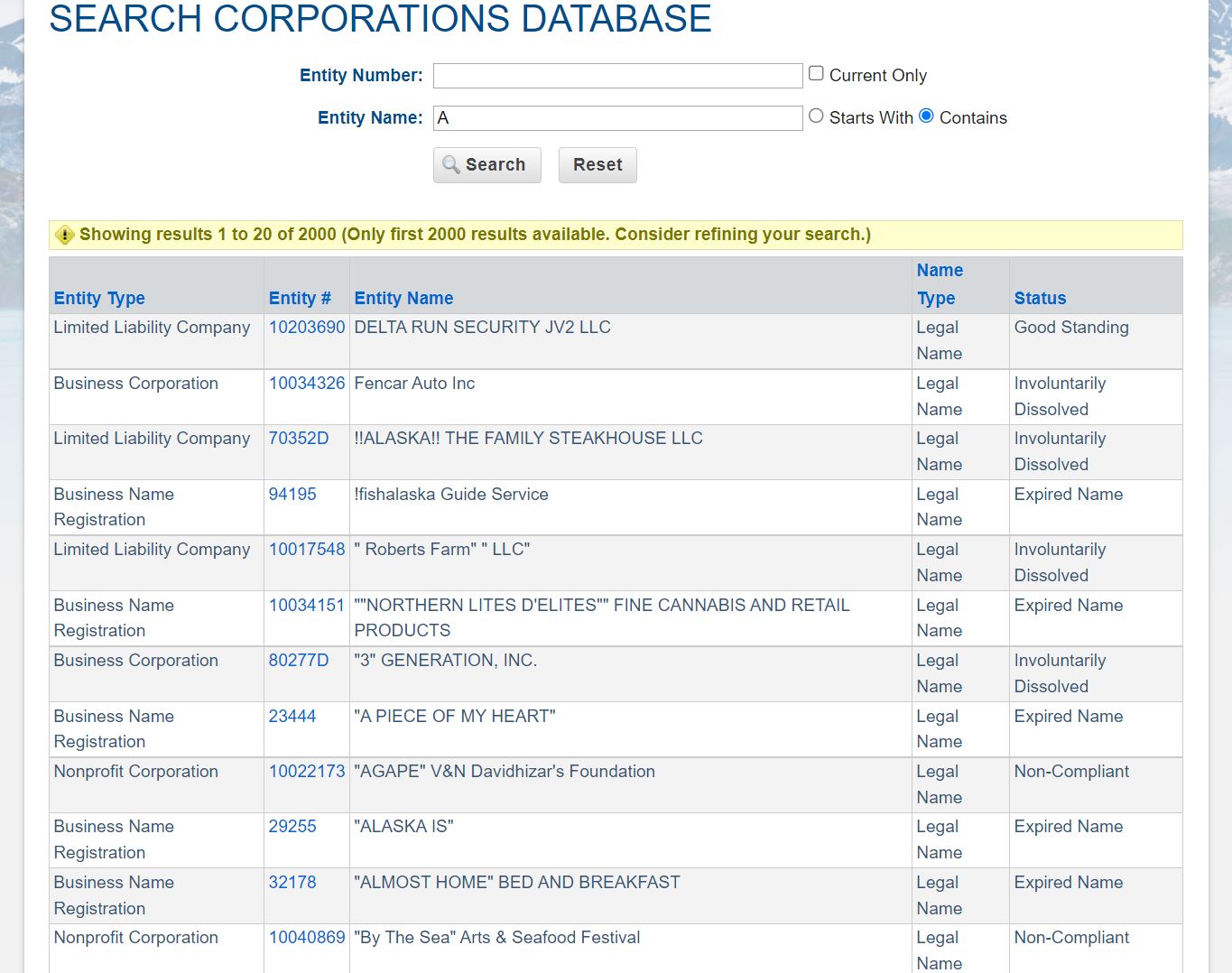 If your lookup LLC Alaska is successful, go to the Entity Number section and click on the entity's corresponding number. Once you click on it, it will open another search result page that will show you the specific information about the entity, as shown in step 3.
Step 3: Download Information
After clicking on the Entity number, as elaborated in step 2, the results will generate detailed data on the specific entity. This is your final step of the lookup LLC Alaska. The data displayed will include all the following:
The entity's legal name
Type
Number
Date Founded
Duration in Operation
State located
Next Biennial Report Date
Mailing address
Physical address
Registered Agent Details
List of Directors
Filed Documents
After accessing the details you were looking for, you may choose to close the page or print reports.

Your search journey ends here and you can proceed with the registration process.
Step 4: Step-by-Step Guide to Creating a New Corporation
Understand the Alaska state business naming guidelines to conduct Alaska Secretary of State Entity Search by following the above steps.
Search and reserve your website and email domain name
Reserve your business name under Alaska State's Division of Corporations, Business, and Professional Licensing. The name will be reserved for up to 120 days, after which it can be given to another applicant. You will pay a fee of $25.
References
Small Business Assistance Center
Federal Reporting Requirements
Find a business entity in another state