Pennsylvania is one of the states that does not require businesses to perform annual filings. The state's Bureau of Corporations and Charitable Organizations requires all business entities to be registered before starting operations in the state. Once registered, all documents stored by this department are considered public and anyone can access and inspect them.
Your main focus in the initial steps is to choose the perfect name that aligns with your business goals and products. The business registration department contains more than 2.5 million records which means your name has to be unique. Many people register their businesses as LLCs, although you are free to choose any other structure such as Corp., Inc., Non-Profit, or Partnership.
Business entity search in Pennsylvania is done through the Bureau of Corporations and Charitable Organizations website. The division maintains an updated record of all businesses registered in the state. You can access the website and perform a Pennsylvania business name search to find out if your perfect name is available for registration.
If the name is available, you can start the registration process or reserve it to register later. Name reservation costs $70 regardless of the type of business that you want to register. To conduct an LLC or Corporation search in Pennsylvania, visit the Pennsylvania Secretary of State Website. The types of organizations that you can search include:
Professional Limited Liability
Non-Profit Corporation
General Partnership
Limited Liability Company
Limited Partnership
Limited Liability Partnership
Corporation
Pennsylvania Secretary of State Business Lookup Contact Details
Website
https://www.dos.pa.gov/
Phones
(717) 787-1057 (Voice) (717) 783-2244 (Fax)
Address
OFFICE ADDRESS: 206 North Office Building
Harrisburg, PA 17120 MAILING ADDRESS: 206 North Office Building
Harrisburg, PA 17120
Hours
Monday — Friday: 8 a.m. to 5 p.m. (EST)
Email
Business: [email protected]
Pennsylvania Business Entity & Corporation Search
Lookup Pennsylvania Corporation Search
Step 1 – Visit the Pennsylvania State Bureau of Corporations and Charitable Organizations Website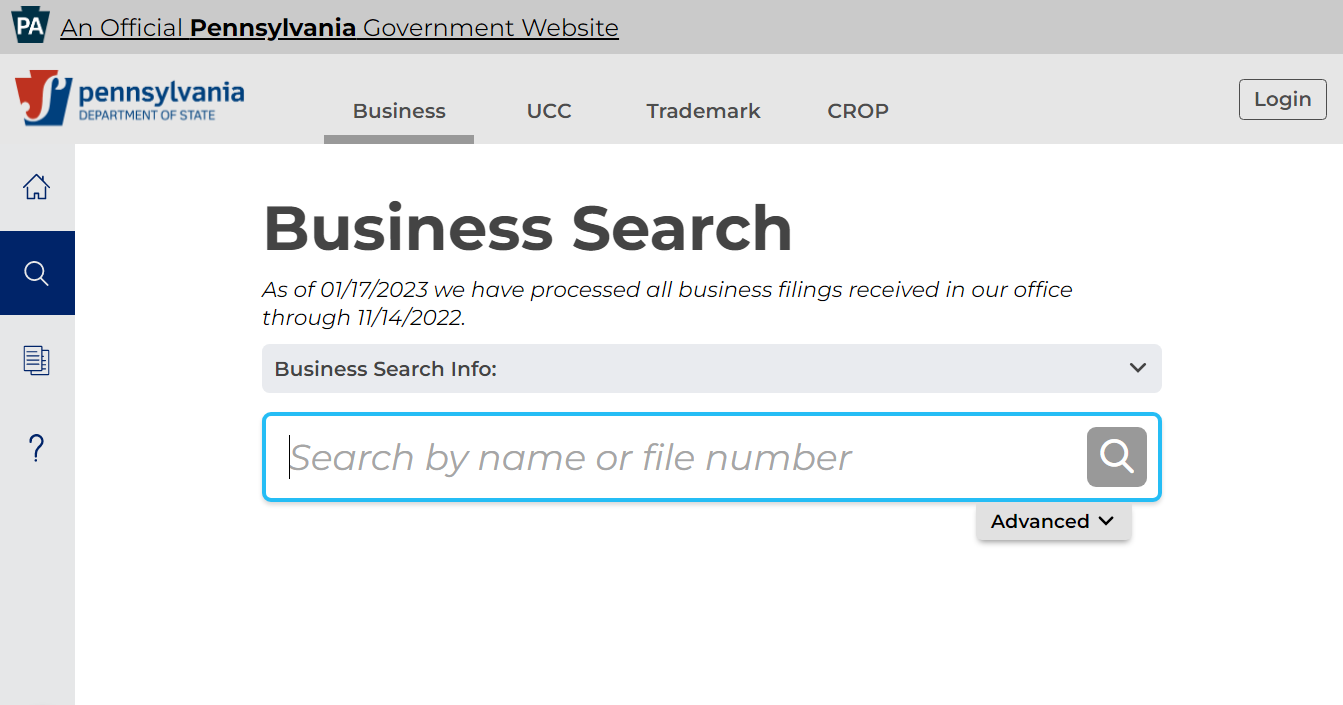 Information for the Pennsylvania corporation search is available at the official website of the Pennsylvania Secretary of State. The business entities you can search for include Professional Limited Liability, Non-Profit Corporation, General Partnership, Limited Liability Company, and Limited Partnership.
Criteria for Business Name search in Pennsylvania is done using: Business Name or File Number. If you want a more detailed report, contact the Pennsylvania State Bureau of Corporations and Charitable Organization Division through email or telephone.
Step 2: Select Your Entity
After keying your options, click the search icon to generate your search results. If the name is registered, a list of names will be displayed as shown below.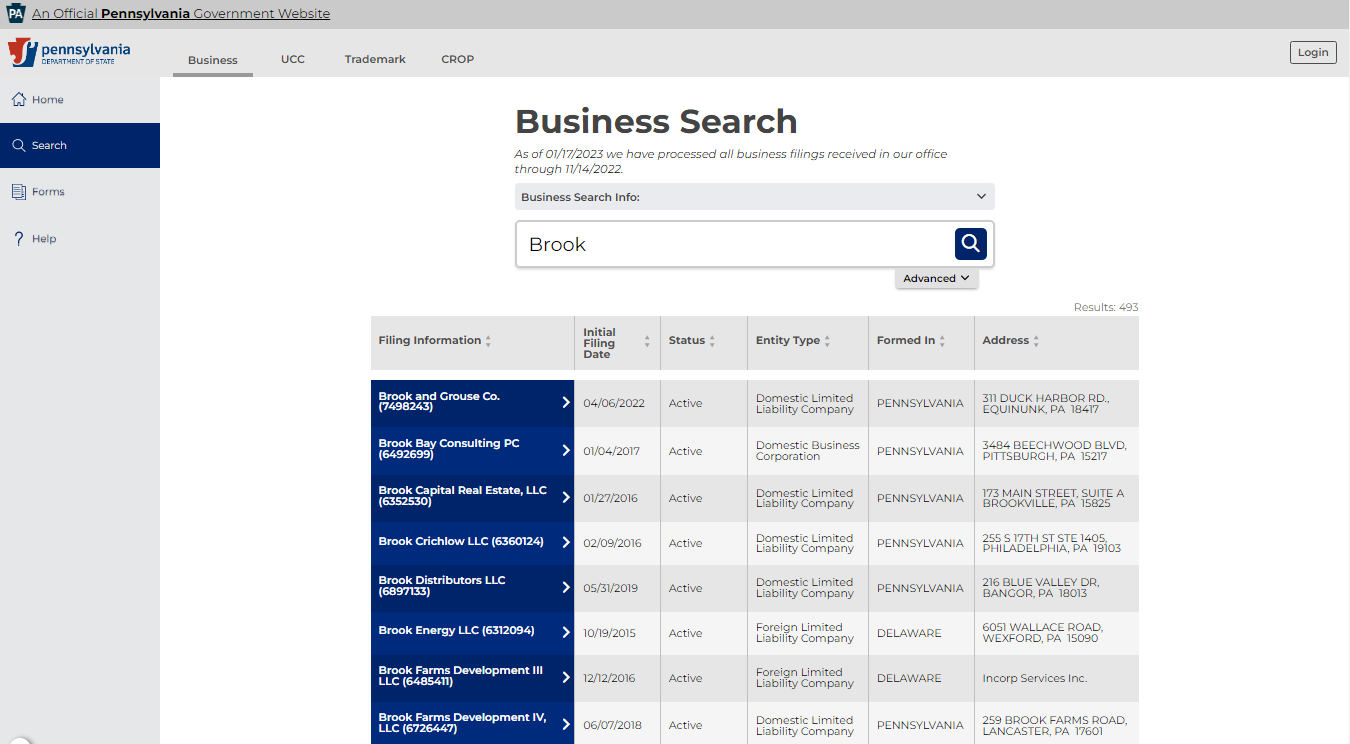 Go through the matching results one by one and sort them out. To make your lookup easier, the search results table displays the active, expired, dissolved, and inactive entities from the database. It consists of the Filing Information, Initial Filing Date, Status, Entity Type, Formed In, and Address. Once you get to the listing you are looking for, check the Filing Information column and click the link. You will be redirected to the Pennsylvania Corporation Search/Information Page, showing the details of the specific entity.
Step 3: Download the information
This is the last step of the lookup LLC Pennsylvania. You now have all the registration details, including:
Initial Filing Date
Status
Formed In
Filing type
Filing Subtype
Registered Office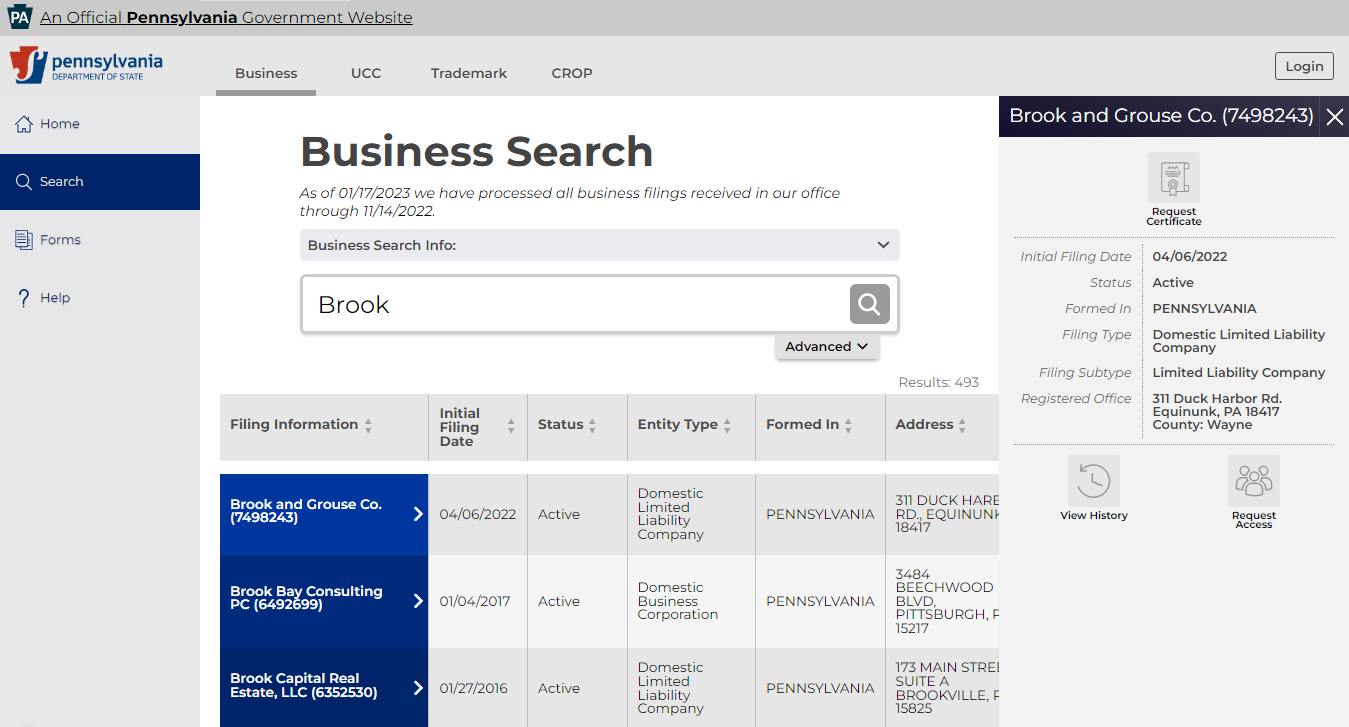 The Pennsylvania Secretary of State allows requesting a Certificate of Good Standing for $15 per name. The cost for plain copies request is $15 plus $3 per page and certified copies are $55 plus $3 per page. You can view an entity's history or access request.
References
Find a business entity in another state