At the national level, Vermont is ranked 5th for good quality of life. It is ranked number 8 for easy access to funding. The state is an excellent choice for entrepreneurship and setting up a business. To get a distinguishable business name, start with a business idea that fits your goals and interests. You may search for the most common businesses that align with your idea to get inspiration.
The idea will help you decide the type of business structure you will use. You can register an LLC, LC, LP, LLP, Corporation, DBA, or sole proprietorship. Understand the requirements for registering each type of business entity in Vermont, including licenses, paperwork, and fees. Your starting point is to perform an entity search to confirm the availability of your preferred name.
Business name search in Vermont is done through the Business Services Division. The Division is responsible for keeping an up-to-date record of all businesses registered in the state. It is free to access the website and perform a Vermont Business Entity Search. If the name is unique from other registered names, it will be available for registration. If not, you will be required to repeat the name creation process and get another distinguishable name.
After you confirm the name is available, you may begin the registration process immediately. The cost for a name reservation is $20. To conduct an LLC or Corporation search in Vermont, visit the Vermont Secretary of State Website. The types of organizations that you can search include:
Partnerships
Corporations
Limited Liability Companies
Limited Partnerships
Non-profits
Vermont Secretary of State Business Lookup Contact Details
Website
https://sos.vermont.gov/
Phones
(802) 828-2386 (Voice) (888) 647-4582 (Toll-Free) (801) 530-6438 (Fax)
Address
OFFICE ADDRESS: 28 State River Street
Montpelier, VT 05609-1104 MAILING ADDRESS: 28 State River Street
Montpelier, VT 05609-1104
Hours
Monday — Friday: 7:45 a.m. to 4:30 p.m. (EST)
Email
Business: [email protected]
Vermont Business Entity & Corporation Search
Lookup Vermont Corporation Search
Step 1 – Visit the Vermont State Business Services website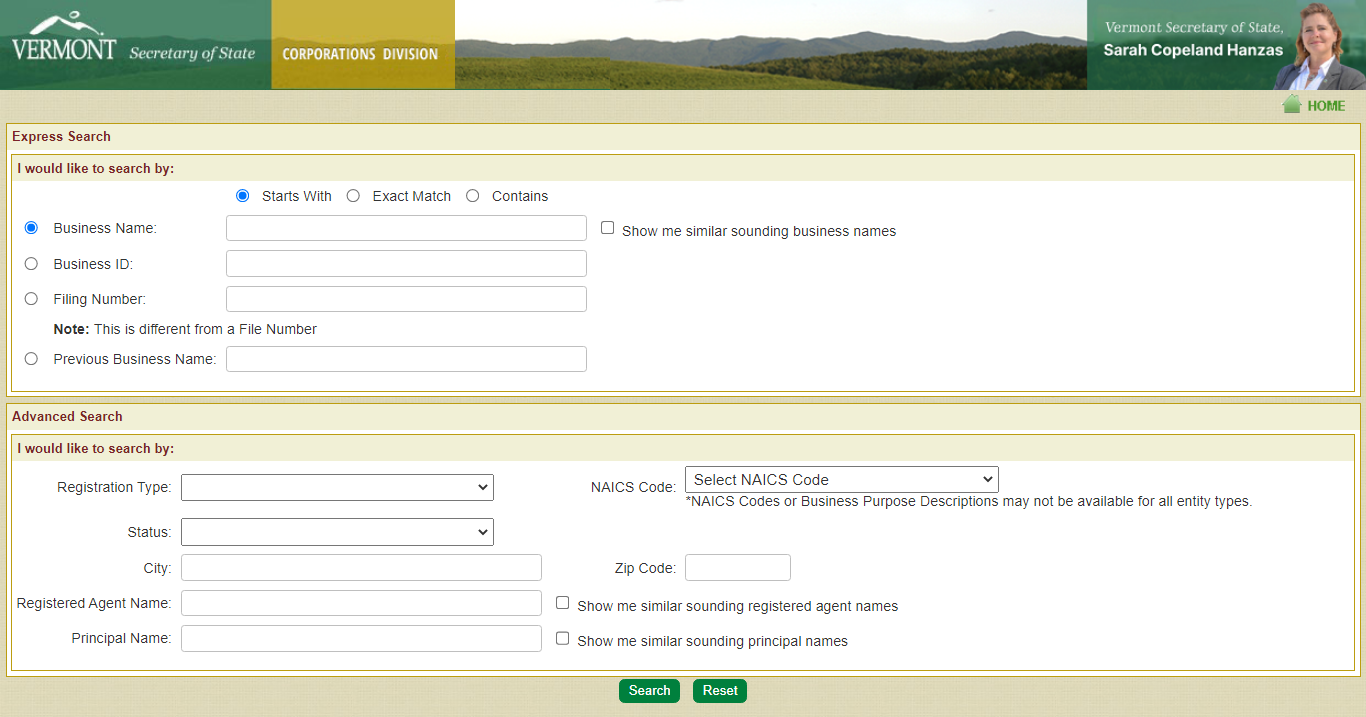 Information for the Vermont corporation search is available at the official website of the Vermont Secretary of State. The business entities you can search for include Non-Profits, Corporations, Partnerships, and LLCs.
Criteria for Business Name search in Vermont is done using: Business Name, Business ID, Filing Number, Previous Business Name, or Advanced Search. If you want a more detailed report, contact the Vermont State Business Services Division through email or telephone.
Step 2: Select Your Entity
After keying your options, click the search icon to generate your search results. If the name is registered, a list of names will be displayed as shown below.
Go through the matching results one by one and sort them out. To make your lookup easier, the search results table displays the active and inactive entities from the database. It consists of the Business Name, Business ID, Business Type, Principal Business Office Address, Registered Agent Name, Fiscal Year Month, and Status. Once you have located the listing you are looking for, check the Business Name column and click the link. You will be redirected to the Vermont Corporation Search/Information Page, showing the details of the specific entity.
Step 3: Download the information
This is the last step of the lookup LLC Vermont. You now have all the registration details, including:
Business Name
Expiration Date
Registration Date
Business Description
Principal Office Business Address
Citizenship
Business ID
File Number
Registration Status
Individual Registrant Information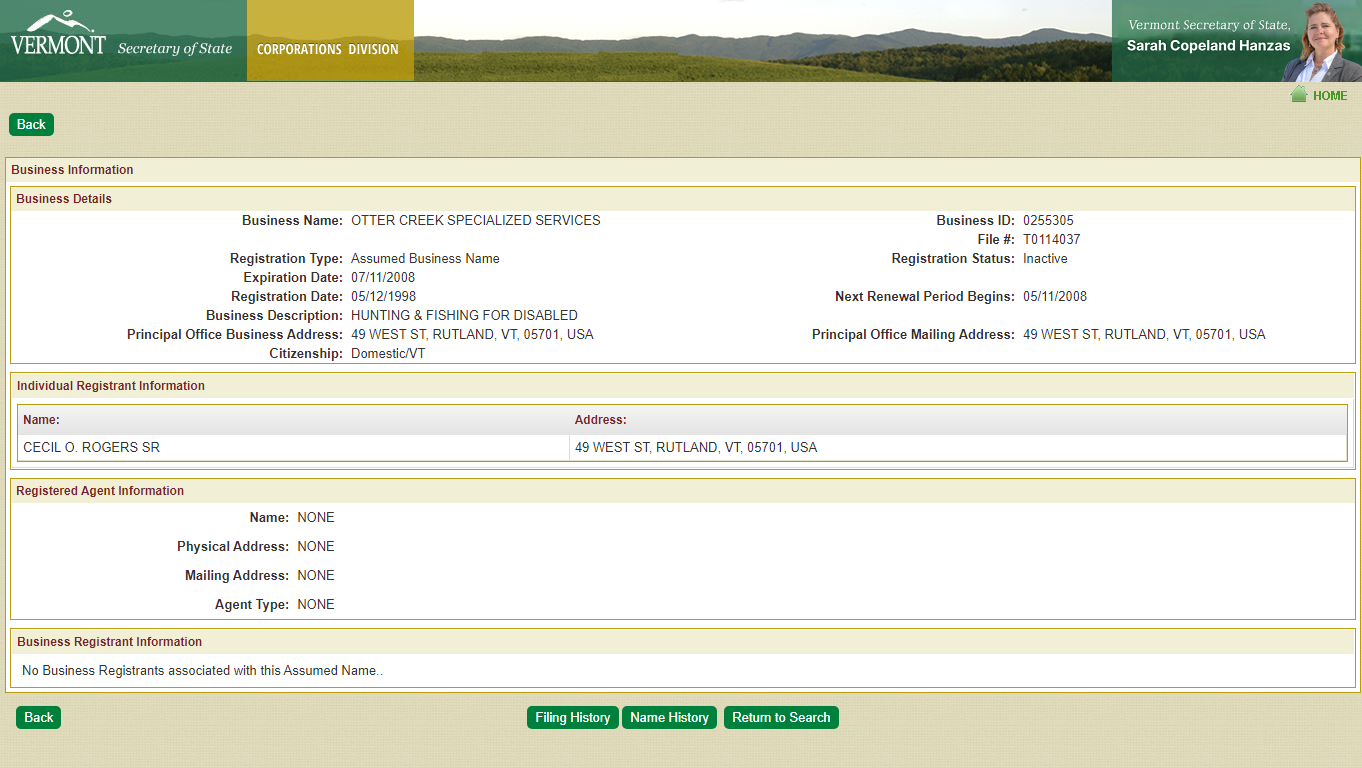 The Vermont Secretary of State allows you to view the filing history of the entities in your search results. You may request certified copies of certificates and reports at a fee.
References
Find a business entity in another state