North Carolina is one of the states that benefit investors with low corporate taxes. The labor market in the state is highly competitive too. If you decide to run a sole proprietorship, you do not need to file paperwork with the state. Other types of business entities are required to register before engaging in business activities. Assumed names are registered with the Registrar of Deeds Office.
Visit the RDO in the county where your business's principal office will be located. The business structure you choose depends on your needs. Considers issues such as tax liabilities, required paperwork, and personal liability protection. Most investors prefer LLCs because it offers them personal asset protection, are easy to maintain, and do not have double taxation.
Business entity search is done through the state's Business Registration department. The department is responsible for maintaining an updated record of all businesses registered in the state. You can access the website and perform a business entity search to find out if your preferred name is available for registration. If the name is available, you can start the registration process or reserve the name to register later. Name reservation costs $30 for up to 120 days. To conduct an LLC or Corporation search in North Carolina, visit the North Carolina Secretary of State Website. The types of organizations that you can search include:
Limited Liability Partnership/LLLP
Limited Liability Company
Business Corporation
Not-for-Profit Corporation
Limited Liability Company
General Partnership
Limited Partnership
North Carolina Secretary of State Business Lookup Contact Details
Website
https://www.sosnc.gov/
Phones
(919) 814-5400 (Voice) (919)-814-5393 (Fax)
Address
OFFICE ADDRESS: Business Registration 2 South Salisbury St. Raleigh, NC 27601-2903 MAILING ADDRESS: Business Registration
Post Office Box 29622
Raleigh, North Carolina 27626-0622
Hours
Monday — Friday: 8 a.m. to 5 p.m. (EST)
Email
Business: [email protected], [email protected]
North Carolina Business Entity & Corporation Search
Lookup North Carolina Corporation Search
Step 1 – Visit the North Carolina Business Registration Department Website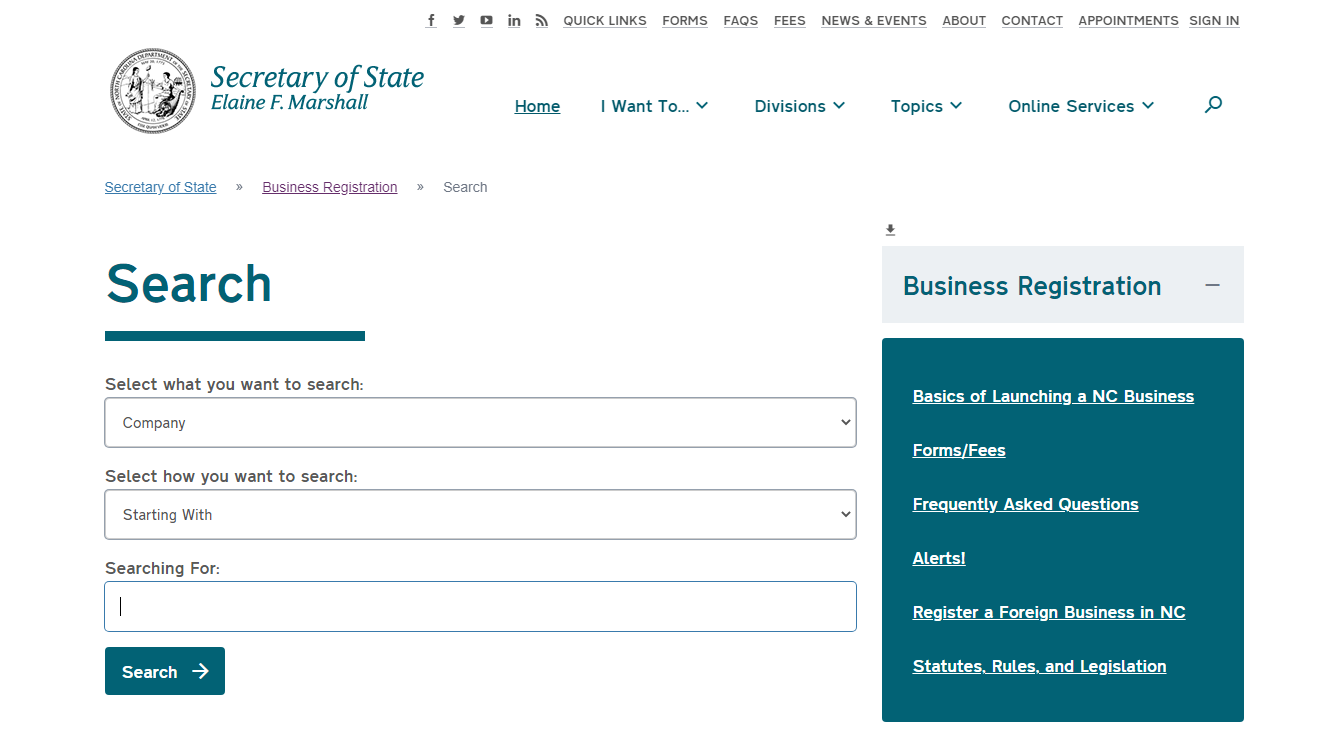 Information for the North Carolina corporation search is available at the official website of the North Carolina Secretary of State. The business entities you can search for include Limited Liability Partnership/LLLP, Limited Liability Company, and Business Corporation.
Criteria for Business Name search in North Carolina are done using: Company, Registered Agents, Company Officials, or Assumed Business Names. If you want a more detailed report, contact the North Carolina Business Registration department through email or telephone.
Step 2: Select Your Entity
After keying your options, click the search icon to generate your search results. If the name is registered, a list of names will be displayed as shown below.
Go through the matching results one by one and sort them out. To make your lookup easier, the search results table displays the active, Auto Dissolved, Expired, Revoked, and Suspended entities from the database. It consists of the Entity Name, Actions, SOS ID, Date Formed, Status, and Type.
Once you have located the listing you are looking for, check the Name column and click the link. You will be redirected to the North Carolina Corporation Search/Information Page, showing the details of the specific entity.
Step 3: Download the information
This is the last step of the lookup LLC North Carolina. You now have all the registration details, including:
Legal Name
SOSID
Status
Date Formed
Citizenship
Annual Report Date
Registered Agent
Addresses
Officers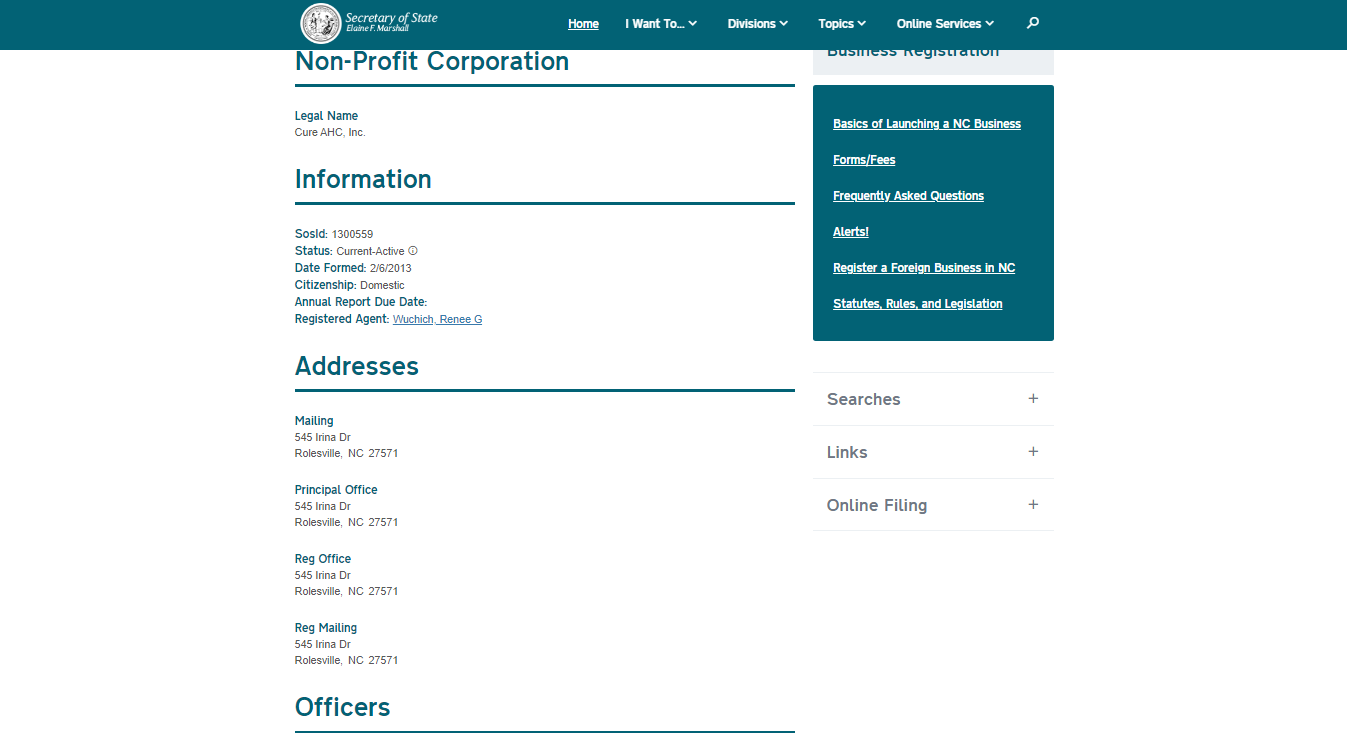 The North Carolina Secretary of State allows you to upload a PDF filing, order documents online, view filings, or add an entity to your email notifications list. When you order documents online, the relevant fees apply.
References
North Carolina Department of Commerce
Find a business entity in another state