Before you choose the business name to register in Florida, conduct FL Secretary of State LLC lookup. The search will confirm no other person is using the same name to trade. The Florida SOS requires all business names to contain the designator LLC, L.L.C., Liability Co., Co., or Ltd. You are not allowed to use name variations, such as adding: An, comma, hyphen, the, or, & to make an entity name look unique.
To conduct a corporation search in Florida, visit the Florida Secretary of State Website. The Florida business lookup website is called the Florida Department of State Division of Corporations (SunBiz). It is the Florida SOS database that contains all records of registered entities in the state. It is updated every time a new entity is registered. The types of organizations that you can search include:
Domestic/Foreign Partnership
Limited Liability Company (LLC)
Limited Partnership (LP)
Corporations
General Partnerships (GP)
Limited Liability Partnership (LLP)
Florida Secretary of State Business Lookup Contact Details
| | |
| --- | --- |
| Website | https://dos.myflorida.com/ |
| Phone | (850) 245-6000 (Voice) |
| Address | OFFICE ADDRESS: 2661 Executive CENTER Circle Tallahassee, FL 32314 MAILING ADDRESS: Department of State, Corporate Filings P.O. Box 6327 Tallahassee, FL 32314 |
| Hours | Monday — Friday: 8 a.m. to 5 p.m. (EST) |
| Email | Business: [email protected] |
Florida Business Entity & Corporation Search
Lookup Florida Corporation Search
Step 1 – Visit the Florida Secretary of State Website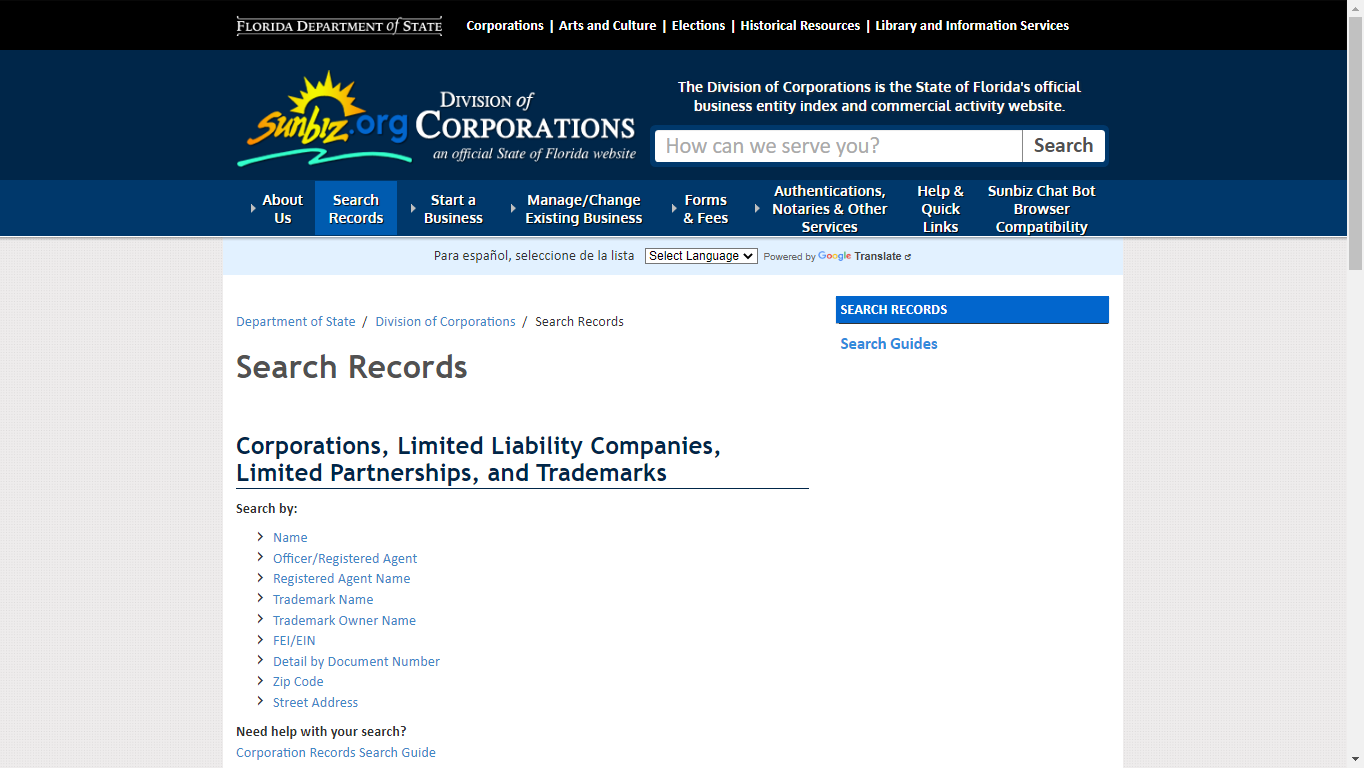 Information for the Florida corporation search is available at the official website of the Florida Secretary of State. The business entities you can search for include Limited Corporation, Limited Liability Company (LLC), and Limited Partnership (LP).
Criteria for Business Name search in Florida is done using: Name, Agent Name, Trademark, FEI/EIN, Document Number, Street Address, or Zip Code. You are allowed to use a fictitious name but people mainly search by use of the Entity Name. Click on the field you want to search by and a new page will open, as shown below.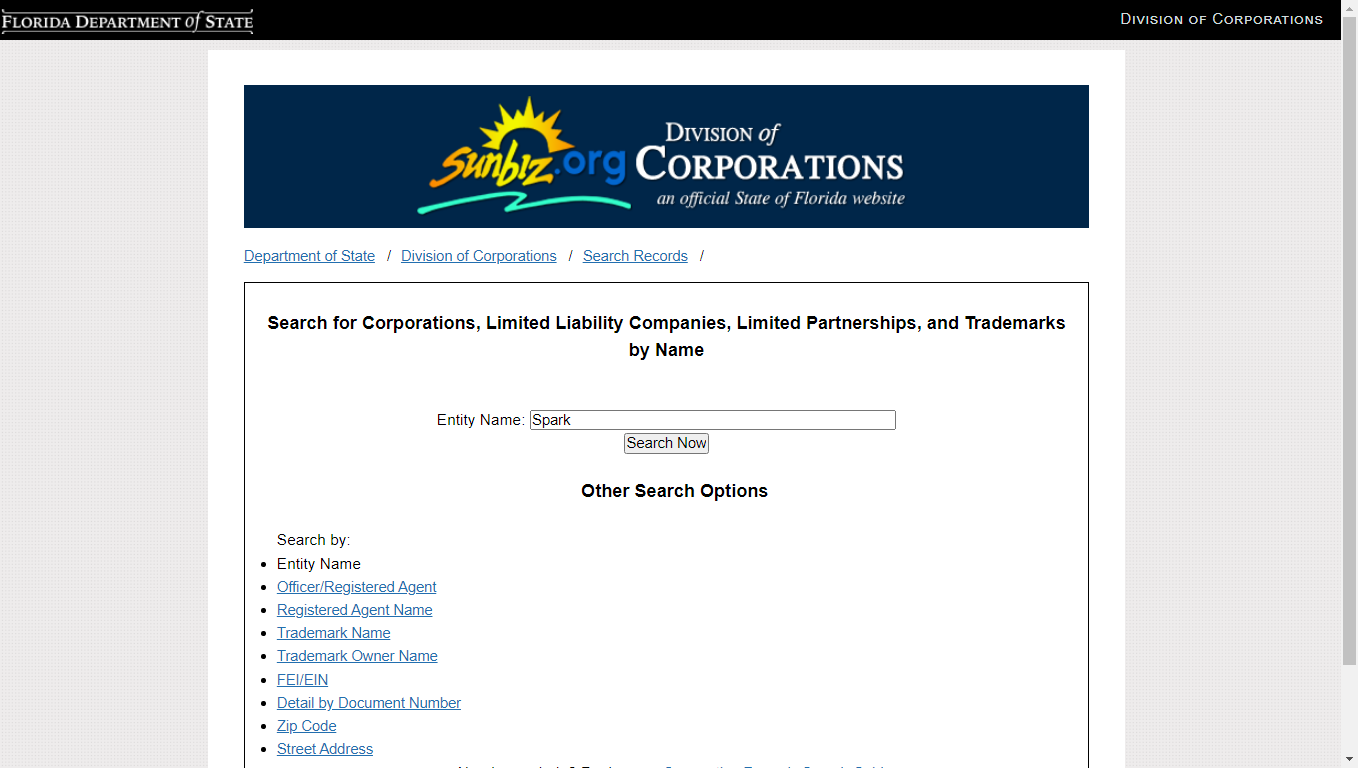 If you click to search by Entity Name, enter a known business entity name. Only use a fictitious name if you do not have an idea of the name you want to search for. To get a refined search, add a comma, followed by phrases, such as LLC, Inc., Corp, LLP, L.L.C. Searching using FEI/EIN, Zip Code, or Document Number requires you to insert the full number/code. Other types of business entities have different search criteria, such as Partnership Name for General and LLPs or Debtor Name for Judgment Liens.
Step 2: Select Your Entity
After keying your options, click the search button at the bottom. You might not get the desired results after the first search. Keep trying other search fields until you get the details right. If the name is registered, a list of names will be displayed, as shown below.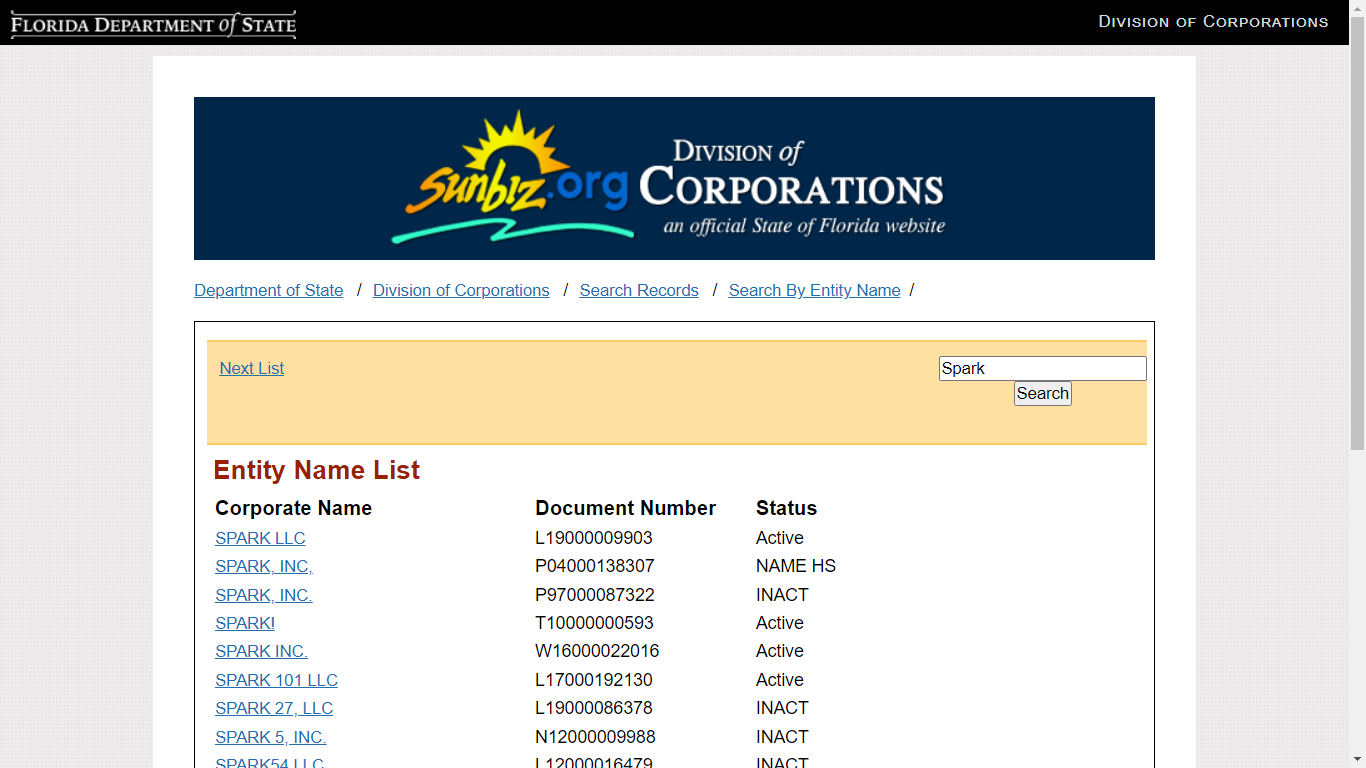 Go through the matching results one by one and sort them out. To make your lookup easier, the table issued by the Florida Secretary of State displays the Corporate Name, Document Number, and Status. Once you have located the listing you are looking for, check the Corporate Name column and click the link. You will be redirected to the Florida Corporation Search/Information Page, showing the details of the specific entity.
Step 3: Download Information
This is the last step of the lookup LLC Florida. You now have all the registration details, including:
Entity Name
Filing Information
Principal Address
Mailing Address
Registered Agent Name and Address
Authorized Person/Principle Details
Annual Reports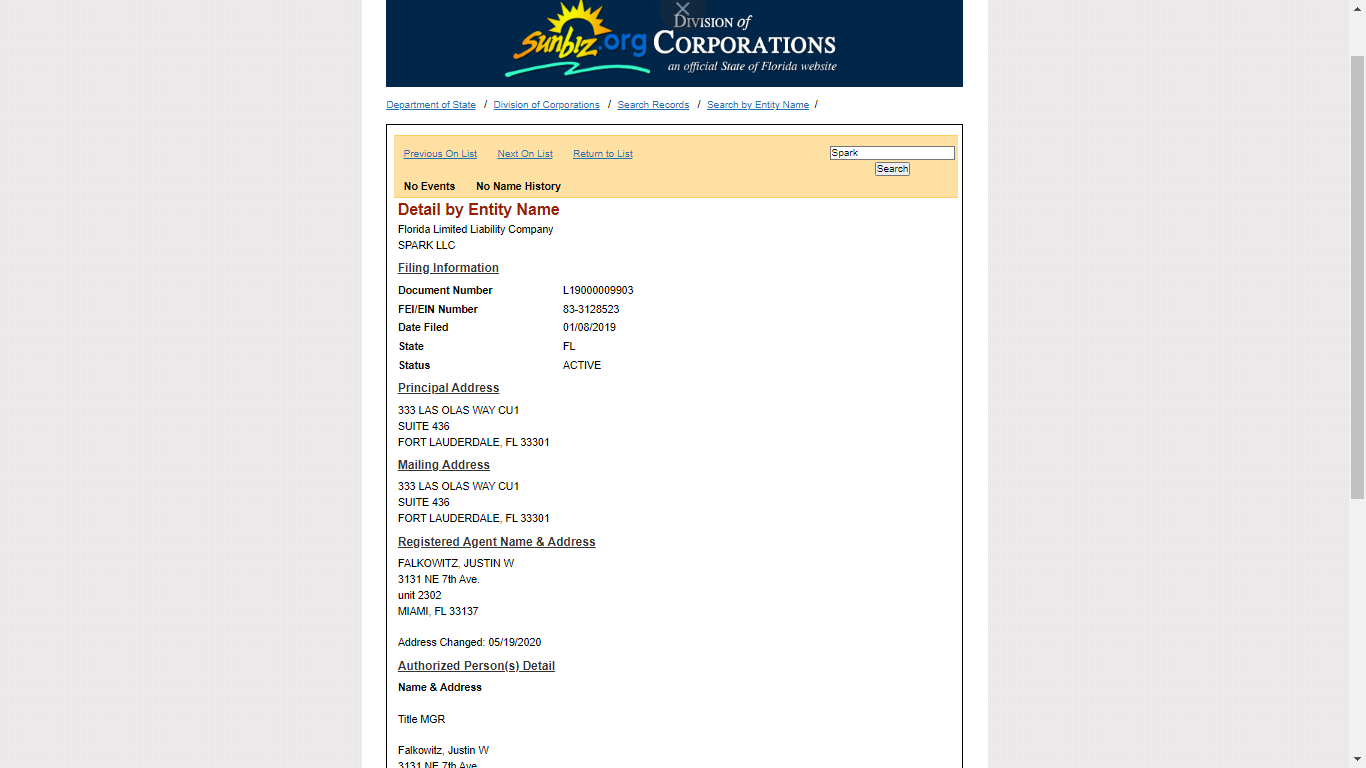 References
Search Florida Sec. of State Records
Find a business entity in another state