If you are planning to start a business in New Jersey, one of the departments you should learn about is the New Jersey Economic Development Authority (NJEDA). It offers different financial programs that support micro-enterprises to get started and grow. The state laws require you to register your business by following the right procedures. The most important part of the registration process is to create a unique business name.
The department responsible for business entity registration in the state is the Division of Revenue and Enterprise Services (DORES). You can access the website and perform a business entity search to find out if your unique name is available for registration. If your preferred name is available, get the detailed registration requirements and proceed to register your new business.
The DORES website contains an updated record of all businesses registered in the state. You cannot reserve a name online for registration at a later date. You must fill out the reservation form and send it by mail to the Division of Revenue mailing address. Include a check of $50 payable to the Treasurer, State of New Jersey. Include a duplicate of the forms. To conduct an LLC or Corporation search in New Jersey, visit the New Jersey Secretary of State Website. The types of organizations that you can search include:
Sole Proprietorship
General Partnership
Limited partnership
Limited Liability Partnership
Limited Liability Company
C-Corporation
S-Corporation
B-Corporation
New Jersey Secretary of State Business Lookup Contact Details
Website
https://www.state.nj.us/state/
Phones
(609) 292-9292 (Voice) (609)-984-6851 (Fax)
Address
OFFICE ADDRESS: 185 W. State St. Trenton, NJ 08646 MAILING ADDRESS: Corporate Filing Unit
PO Box 308
Trenton, NJ 08646
Hours
Monday — Friday: 8 a.m. to 5 p.m. (EST)
Email
Business: [email protected]
New Jersey Business Entity & Corporation Search
Lookup New Jersey Corporation Search
Step 1 – Visit the Division of Revenue and Enterprise Services Website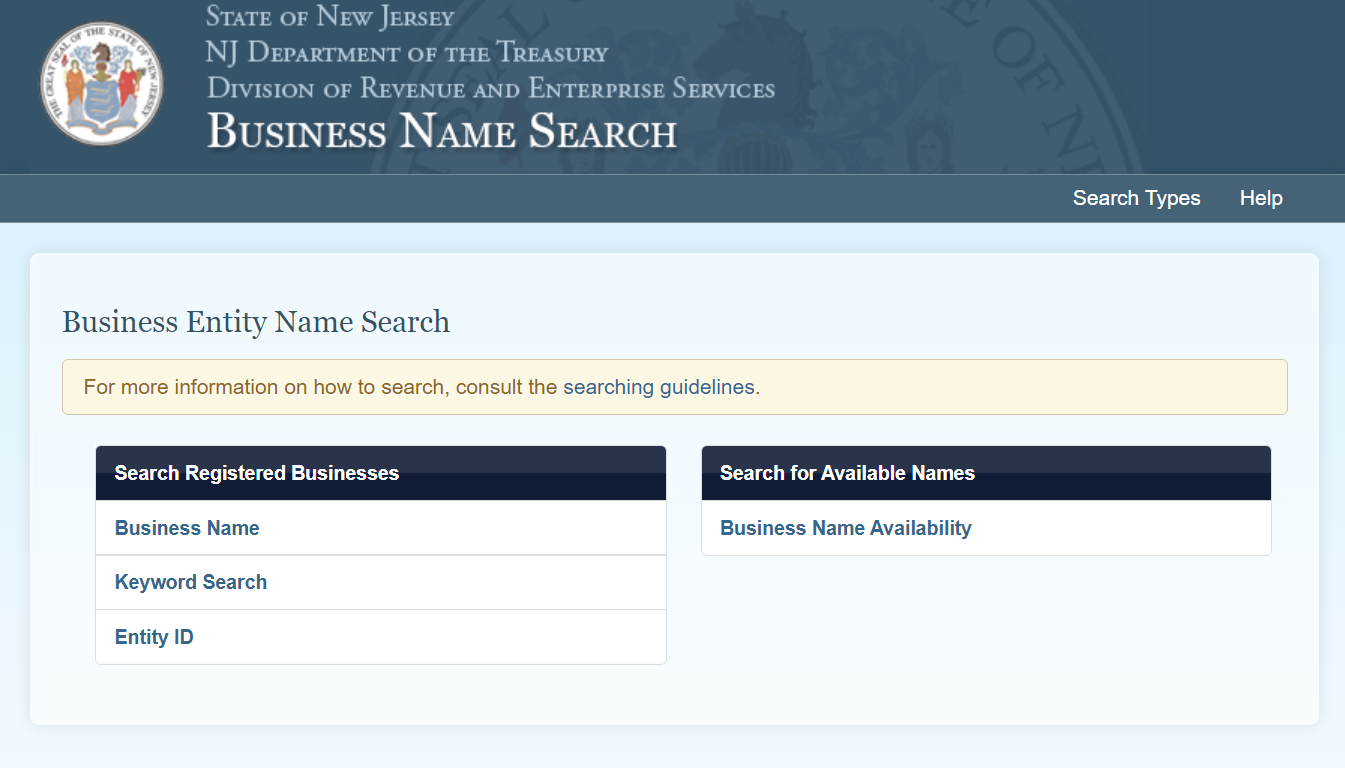 Information for the New Jersey corporation search is available at the official website of the New Jersey Secretary of State. The business entities you can search for include Limited partnership, Limited Liability Partnership, and Limited Liability Company.
Criteria for Business Name search in New Jersey is done using: Business Name, Keyword Search, or Entity ID. If you want a more detailed report, contact the New Jersey Division of Revenue and Enterprise Services through email or telephone.
Step 2: Select Your Entity
After keying your options, click the search icon to generate your search results. If the name is registered, a list of names will be displayed as shown below.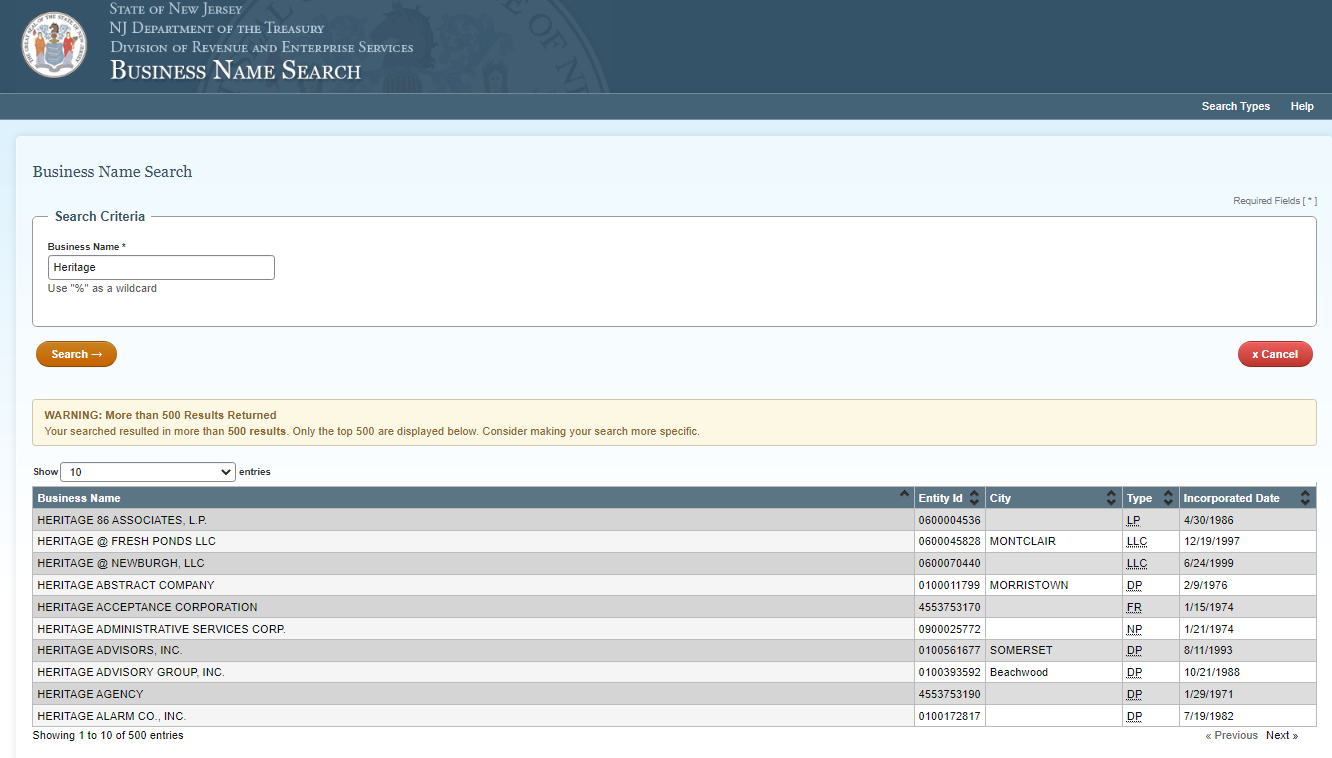 Go through the matching results one by one and sort them out. To make your lookup easier, the search results table displays both the active and inactive entities from the database. It consists of the Business Name, Entity ID, City, Type, and Incorporated Date. Once you have located the listing you are looking for, write down the details of the business entity, including the name, ID, type, and incorporation date.
Step 3: Request for information
This is the last step of the lookup LLC New Jersey. Now you have the entity details but you cannot click to obtain more information. You have to make an official request to the Division of Revenue and Enterprise Services. On the search page, click Business Entity Status Report if you want a status report. Click on Business Entity Documents if you want to order copies of documents. After this, click Cart and make a request. The right fees will apply and the DORES department will send you certified copies. The results page will appear as shown below.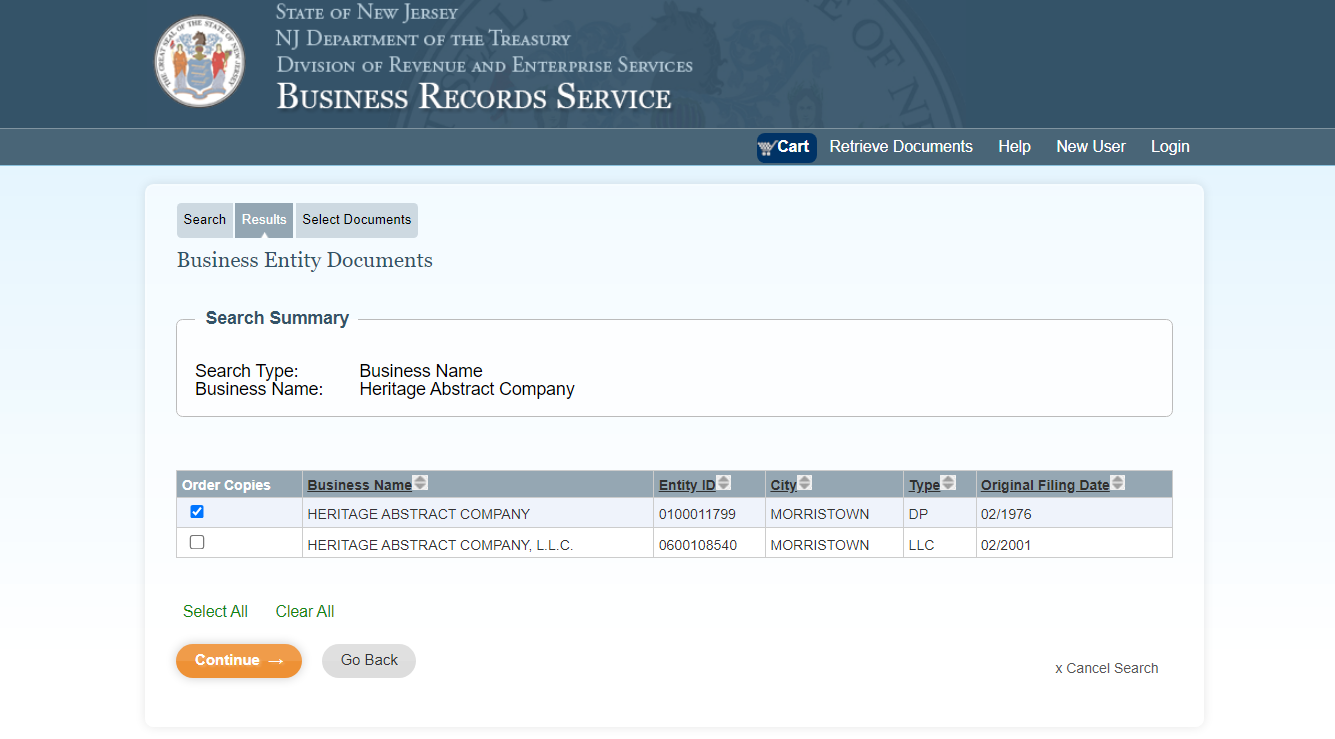 References
Find a business entity in another state