The state law requires all business entities operating in Arkansas to be registered through the Arkansas Secretary of State Entity Search website. Your first step is to search for the availability of your entity name in the Arkansas SoS database. The search is free and easy, provided you have some details of the entity you want to search. The criteria for the search are done by:
Filing Number
Corporation Name
RA City or State
Fictitious Name
Registered Agent
The Arkansas Corporation search fall under three categories:
Nonprofit Corporations (Allowed to apply for tax-exempt through the federal government)
C Corporations (Owned by shareholders. Board of Directors are elected by shareholders)
S Corporations (Profits shared among shareholders)
Arkansas Secretary of State Business Lookup Contact Details
| | |
| --- | --- |
| Website | https://www.sos.arkansas.gov |
| Phones | SoS Office: 501-682-1010 Business: 888-233-0325, 501-682-3409 |
| Address | OFFICE ADDRESS: Suite 250, Victory Building, 1401 West Capitol Avenue, Little Rock, AR 72201 MAILING ADDRESS: Arkansas Secretary of State State Capitol, Little Rock, AR 72201 |
| Hours | Monday — Friday: 8:30 a.m. to 4:00 p.m. (CST) |
| Emails | [email protected] [email protected] |
Arkansas Business Entity & Corporation Search
Lookup Arkansas Corporation Search
Step 1 – Visit the Arkansas Secretary of State Website and go to corps/search_corps page.
Got the Arkansas Secretary of State website
On the Corps Search page, enter your lookup Arkansas corporation search details.
Enter fields such as Type, Name, Fictitious Name, RA, RA City, RA State, or Filing Number.
The lookup Arkansas corporations search page looks as shown below
Click the search button to start an automatic search.
Step 2: Select Your Entity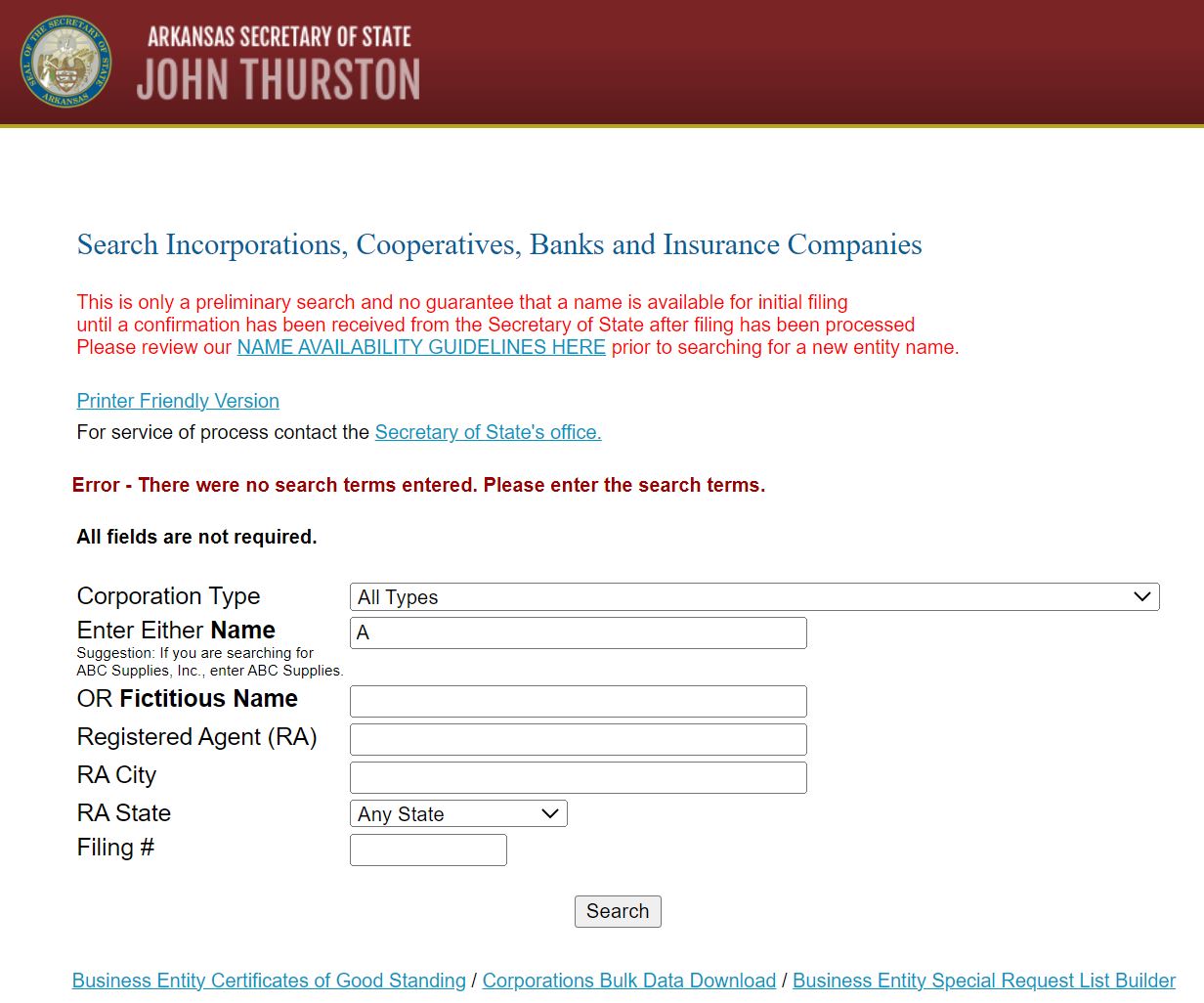 You might not find the name you are searching for in your first Arkansas Secretary of State Business Lookup. Keep changing the search and clicking the search button until the time a list of results will be generated. The results page will contain several details:
Entity Name
City
State
Status
The lookup LLC Arkansas search results below has been done without punching any detail to keep the search open-ended.
After finding the desired entity name, click on it to display detailed information about it.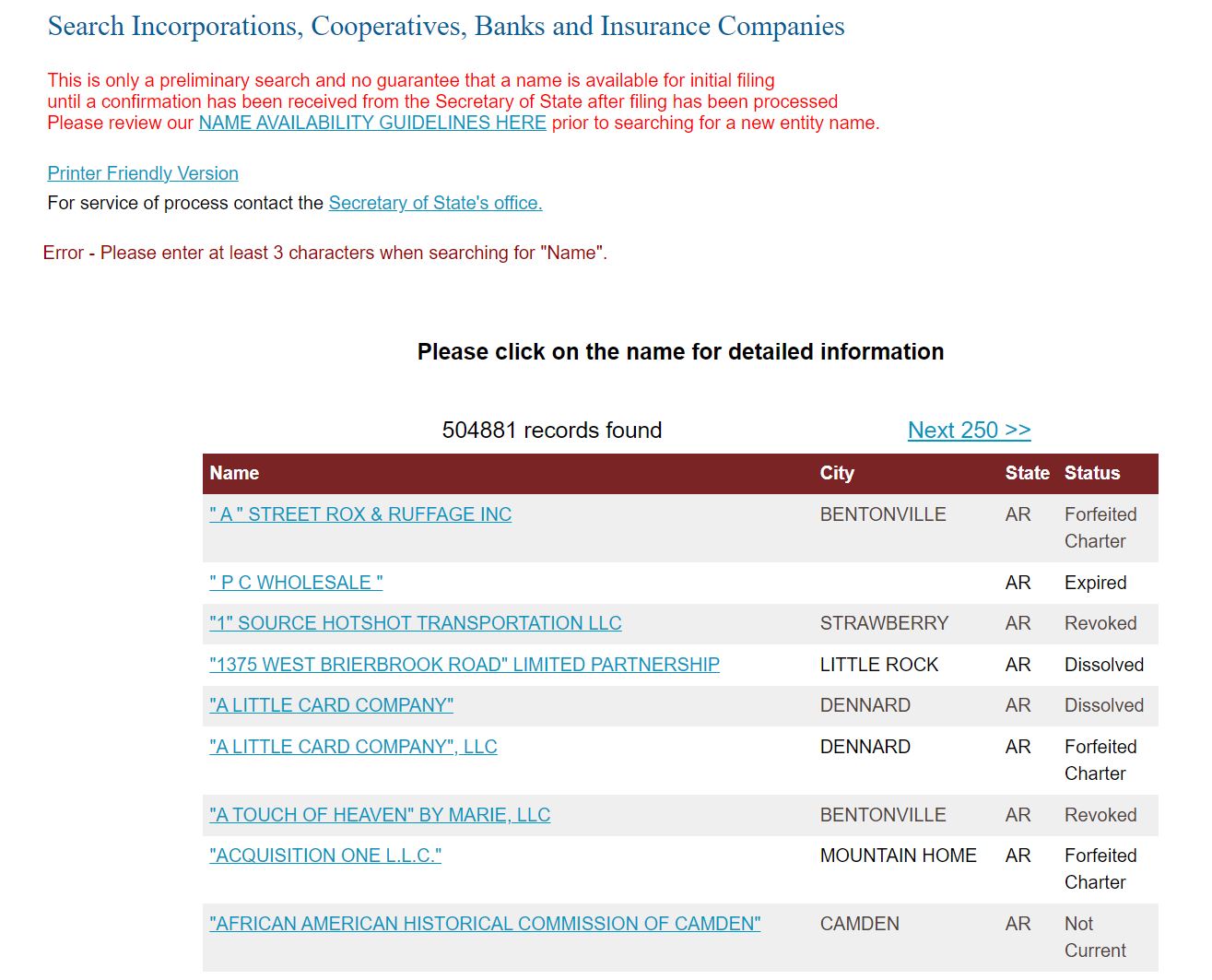 Step 3: Download Information
After clicking on the entity name, the system will generate detailed information about the specific organization. It will display the following information.
Corporation name
Filing Number
Fictitious Name
Filing Type
Filed Under Act
Status
Principal Address
Registration Agent
Agent Address
Date Filed
Officers
Foreign Name
Foreign Address
State of Origin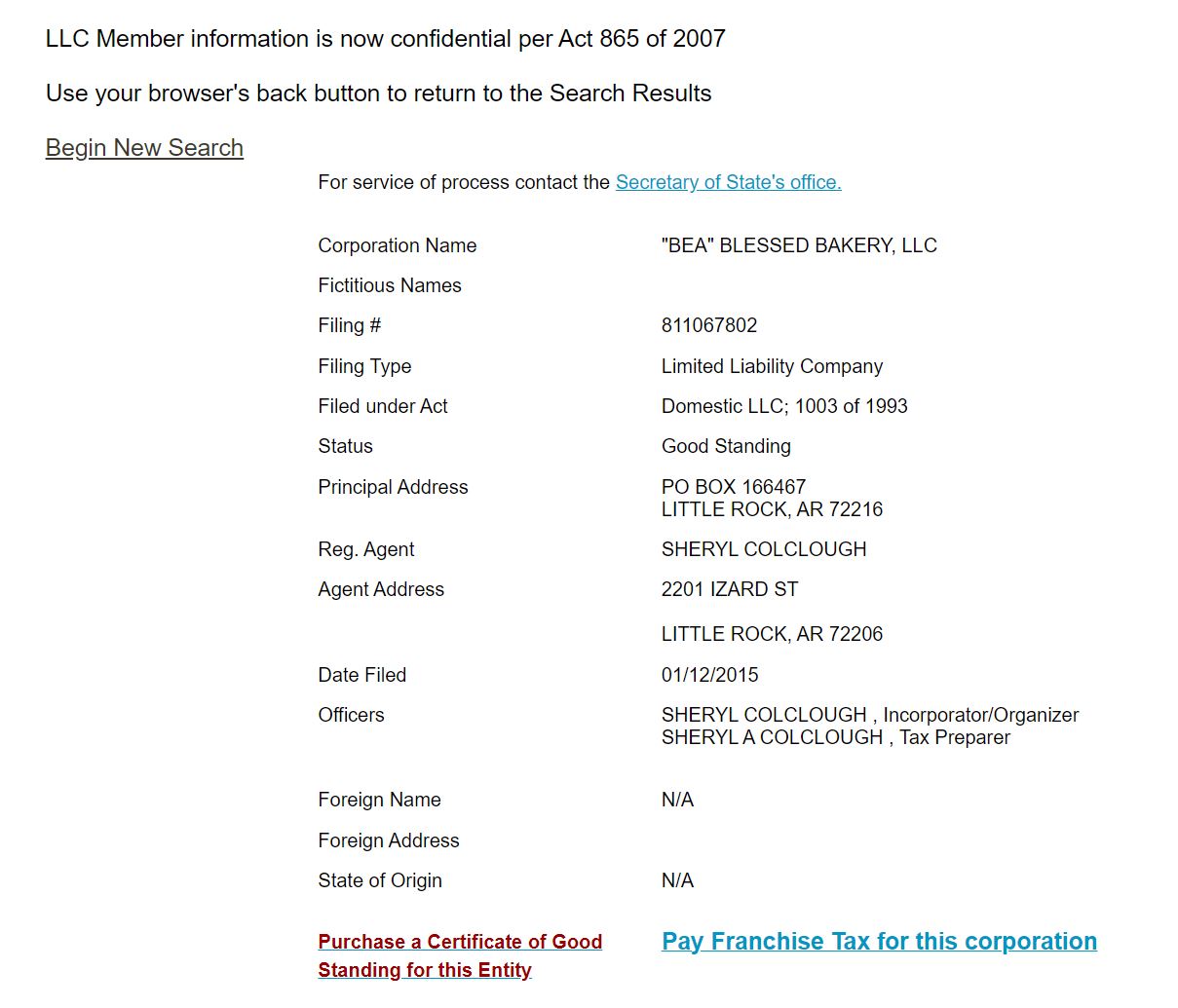 The results page will look like the image shown above. If your preferred name is free, you can now proceed with the registration process.
Step 4: Step-by-Step Guide to Creating a New Corporation in Arkansas
The first step is to prepare articles for your organization.
File the articles with the Arkansas Secretary of State. The articles must include the LLC's name and address, the registered agent, and whether it will be managed by a manager.
You will be required to pay $45 for online filing or $50 for paper form filing.
The State government will require you to attach forms for withholding tax, franchise tax, sales and use tax, unemployment insurance tax.
Register for Tax ID/EIN with the IRS.
Other important requirements include a business logo, business plan, corporate bank account, business website, and email address.
Important points to note:
Allow 3 to 5 business days after submitting entity registration forms online.
Do not start to count days for forms sent through mailing addresses until they reach the AR Secretary of State office. The time it takes depends on the service that you use. From the date they are received at the SoS desk, wait for 3 to 5 days.
References
Find a business entity in another state