The California Secretary of State assigns a file number to every entity registered in the state. The number is generated and included in the LLC application form on the date of submission. The file contains a 7-digit entity number or a 12-digit file number. When searching whether an entity is registered in the state, the numbers will appear once the search result is generated.
When searching the California Secretary of State Business entity data bank, you are allowed to use three types of ID numbers.
The 12-digit SoS number. It starts with a 19 or 20
The 9-digit LLC Temp number
The 8-digit CCN (California Corporation Number). It starts with a C.
Business search information available in the state includes data for corporations, LLCs, and limited partnerships. Searches for LLPs, General Partnerships, and other types of entities cannot be searched in the California Business Search data files. Such entities are searched by filing a Business Entities Order form.
California Secretary of State Business Lookup Contact Details
| | |
| --- | --- |
| Website | https://www.sos.ca.gov/ |
| Phone | (916) 657-5448 (Business) 916-653-4795 (Fax) |
| Address | OFFICE ADDRESS: 1500 11th St. Sacramento, CA, 95814 MAILING ADDRESS: P.O. Box 944230 Sacramento, CA 94244-2300 |
| Hours | Monday — Friday: 8 a.m. to 5 p.m. (PST) |
| Email | Business: bizfileOnline.sos.ca.gov |
California Business Entity & Corporation Search
Lookup California Corporation Search
Step 1 – Visit the California Secretary of State Website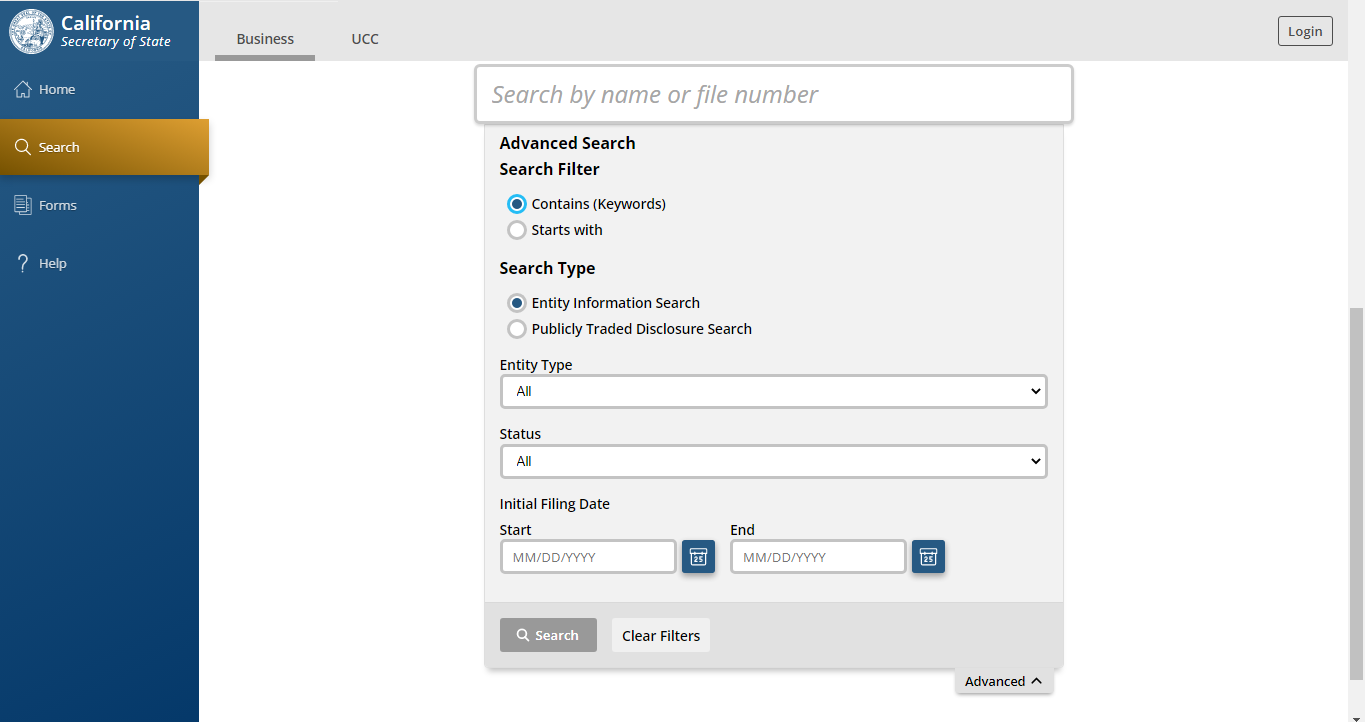 Information for California corporation search is available at the official website of the California Secretary of State. The business entities you can search for include Limited Corporation, Limited Liability Company (LLC), and Limited Partnership (LP)
There are several search methods you may decide to use: Search using the Entity ID Number or Entity Name. When you search using the Entity Number, remove the "C" where necessary. You need to note that a basic search only displays active entities. You must use keywords such as "contains." If you want to get results for entities with another status other than active, use the Advanced search feature.
This search allows conducting a customized search. You may search for LLCs only, Non-profit, LP, or search by the keyword "begins with." Each search result displays up to 500 entities. If the system finds no results within a batch of 500, it will alert you no results found.
You need to refine your search by including specific keywords or using the Advanced search feature. Every time a new entity is approved, the entire California Business Search database is updated. If you want to obtain a certified search result copy, apply to the SoS by filling out an online form.
Step 2: Select Your Entity
Go through the matching results one by one and sort them out. To make your lookup easier, the table issued by the California Secretary of State displays the Entity Name (includes File Number), Initial Filing Date, Status, Type, Formed In, and Agent. Once you have located the listing you are looking for, check the Entity Name column and click the link. A window showing detailed information about the entity will be displayed on the right side of the search results page, as shown below.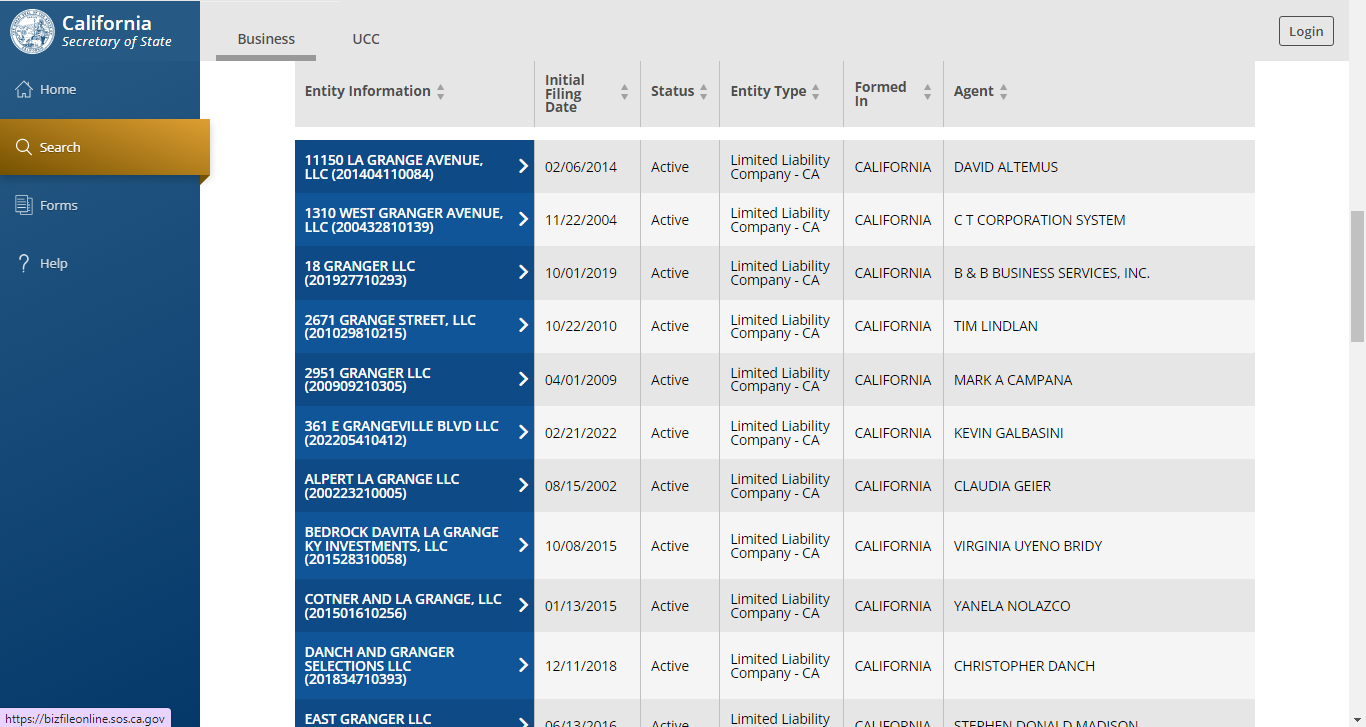 Step 3: Download Information
This is the last step of the lookup LLC California. You now have all the registration details, including:
Initial Filing Date
Status
Standing (SOS)
Standing (FTB)
Standing (Agent)
Standing (VCFCF)
Formed In
Entity Type
Physical Address
Mailing Address
Statement of Infor Due Date
Agent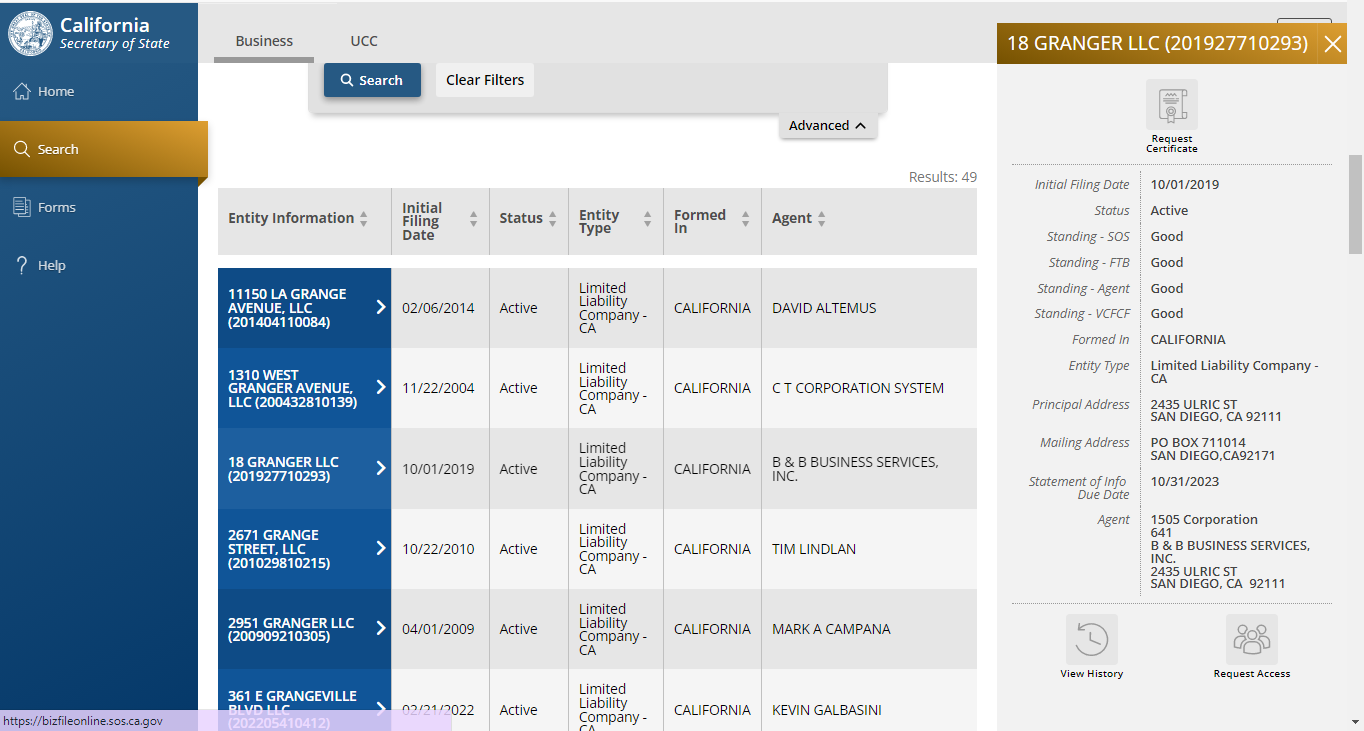 References
Processing dates for Business Entities
Find a business entity in another state