The Louisiana corporation search allows you to find if your preferred business name is available for registration. The Secretary of State maintains the registry of all business entities in the state. You will find names of active or dissolved entities. It is free to search the Louisiana business name search database and you do not need to create an account to perform a search.
The SOS requires you to create a unique name that has not been registered by another person or entity. You only need to visit the Louisiana Business Filings page and search for your proposed name. You may search the Louisiana SOS business entity database using the entity name, number, agent, or charter. To conduct an LLC or Corporation search in Louisiana, visit the Louisiana Secretary of State Website. The types of organizations that you can search include:
Limited Liability Company
Limited Liability Partnership
Corporation
Partnership
Sole proprietorship
Louisiana Secretary of State Business Lookup Contact Details
Website
https://www.sos.la.gov/
Phones
(225) 925-4704 (Voice) (225) 925-4701 (UCC) (225)-932-5314 (Fax)
Address
OFFICE ADDRESS: Twelve United Plaza 8585 Archives Ave. Baton Rouge, LA 70809 MAILING ADDRESS: Louisiana Secretary of State
P.O. Box 94125
Baton Rouge, LA 70804-9125
Hours
Monday — Friday: 8 a.m. to 4:30 p.m. (CST)
Emails
Commercial: [email protected]
UCC: [email protected]
Main: [email protected]
Louisiana Business Entity & Corporation Search
Lookup Louisiana Corporation Search
Step 1 – Visit the Louisiana Secretary of State Website
Information for Louisiana corporation search is available at the official website of the Louisiana Secretary of State. The business entities you can search for include Limited Liability Companies, Limited Liability Partnerships, Corporations, Partnerships, and Sole Proprietorships.
Criteria for Business Name search in Louisiana is done using: Entity Name, Key Word, Partial Word, or File Number. On the search text box, enter the name. You do not need to add the abbreviation LLC, L.L.C, Inc., or Corp. You may add more details if you wish to make your search more specific. If you want a more detailed report, contact the Louisiana Secretary of State through email or telephone.
Step 2: Select Your Entity
After keying your options, click the search icon to generate your search results. If the name is registered, a list of names will be displayed, as shown below.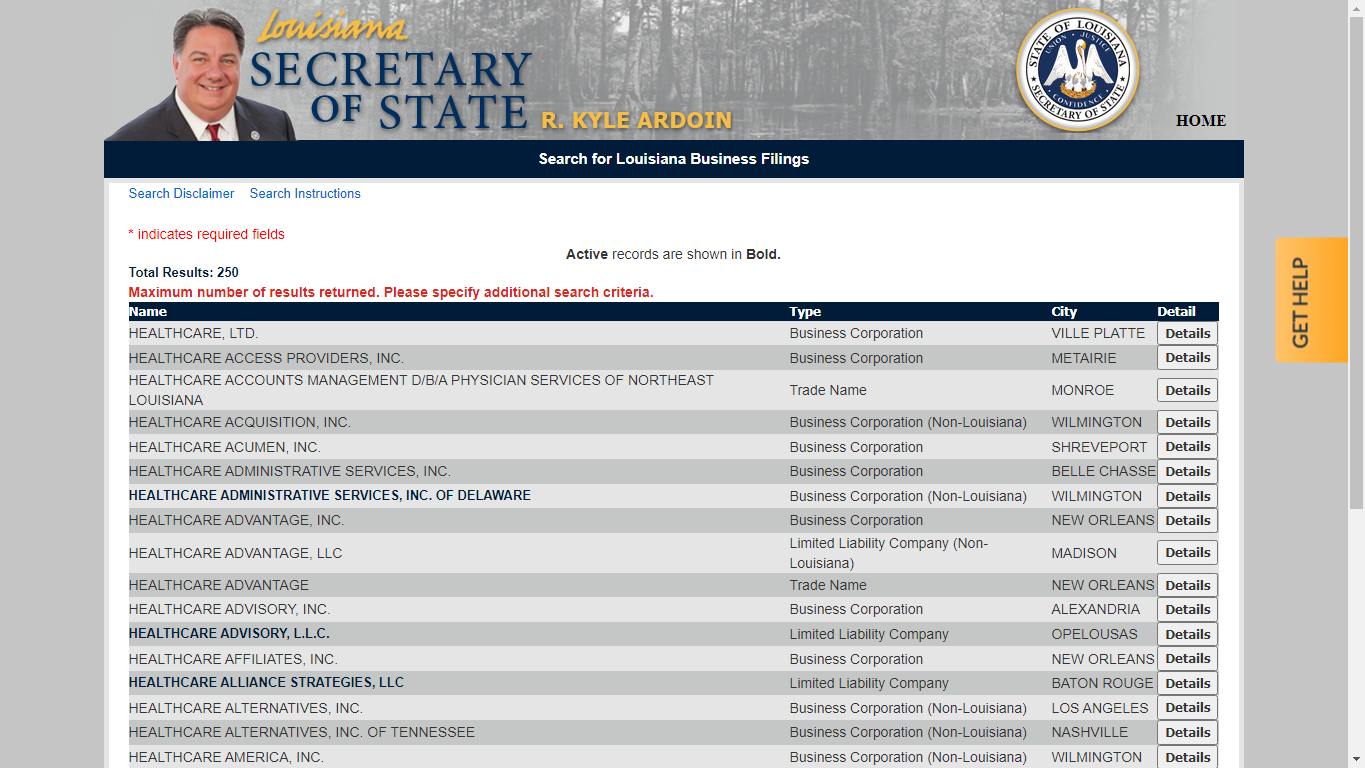 Go through the matching results one by one and sort them out. To make your lookup easier, the table issued by the Louisiana Secretary of State displays all names that closely match your search details. Some entities might have been dissolved or merged, while others will still be active. It consists of the Entity Name, Type, City, and Entity Details. Once you have located the listing you are looking for, check the Details column and click the link. You will be redirected to the Louisiana Corporation Search/Information Page, showing the details of the specific entity.
Step 3: Download information
This is the last step of the lookup LLC Louisiana. You now have all the registration details, including:
Name
Type
City
Status
Previous Names
Charter Number
Registration Date
Domicile Address
Mailing Address
Reasons for Inactivity (if inactive)
Last File Date
Registered Agent/s
Officer/s
The Louisiana Secretary of State allows you to obtain a Certificate of Good Standing for any business entity found in the database. You are allowed to print the filing history of a specific entity or investigate further with the Secretary of State to find out if your preferred name has been reserved by another person.
References
Search for Louisiana Business Filings
Find a business entity in another state