South Dakota is a conducive place to start a business. The state has flexible regulations and limited taxes that help new investors get established fast. The workforce is well-educated and the business community supports new investors through mentorship. The business registration guidelines require you to develop a business idea first.
The name you choose should align with the business idea or products/services you will be selling. The name requires a designator such as LLC, LC, Corp., Inc., or Limited. If you decide to start a sole proprietorship, the law requires you to register a Doing Business As (DBA). You may choose to conduct your business operations entirely online. In this case, you have a choice to register a domain name. To make sure no other person is using your name, search and then register it.
Business entity search in South Dakota is done through the Business Information Search website. The Enterprise Department is responsible for keeping an updated record of all business entities registered in the state. Open the website and perform a South Dakota business name search to find out if your unique name is available for registration.
If the name is available, file the relevant registration documents as required or reserve it to register later. Name reservation costs $25 for all types of business entities. To conduct an LLC or Corporation search in South Dakota, visit the South Dakota Secretary of State Website. The types of organizations that you can search include:
General Partnerships
Limited Partnerships
Limited Liability Partnerships
Corporations
Limited Liability Companies
DBAs
South Dakota Secretary of State Business Lookup Contact Details
Website
https://sdsos.gov/
Phones
(605) 773-4845 (Voice) (605) 773-4550 (Fax)
Address
OFFICE ADDRESS: 500 East Capitol Avenue Ste. 204
Pierre, SD 57501-5070 MAILING ADDRESS: 500 East Capitol Avenue Ste. 204
Pierre, SD 57501-5070
Hours
Monday — Friday: 8 a.m. to 5 p.m. (CST)
Email
Business: [email protected]
South Dakota Business Entity & Corporation Search
Lookup South Dakota Corporation Search
Step 1 – Visit the South Dakota Enterprise Department Website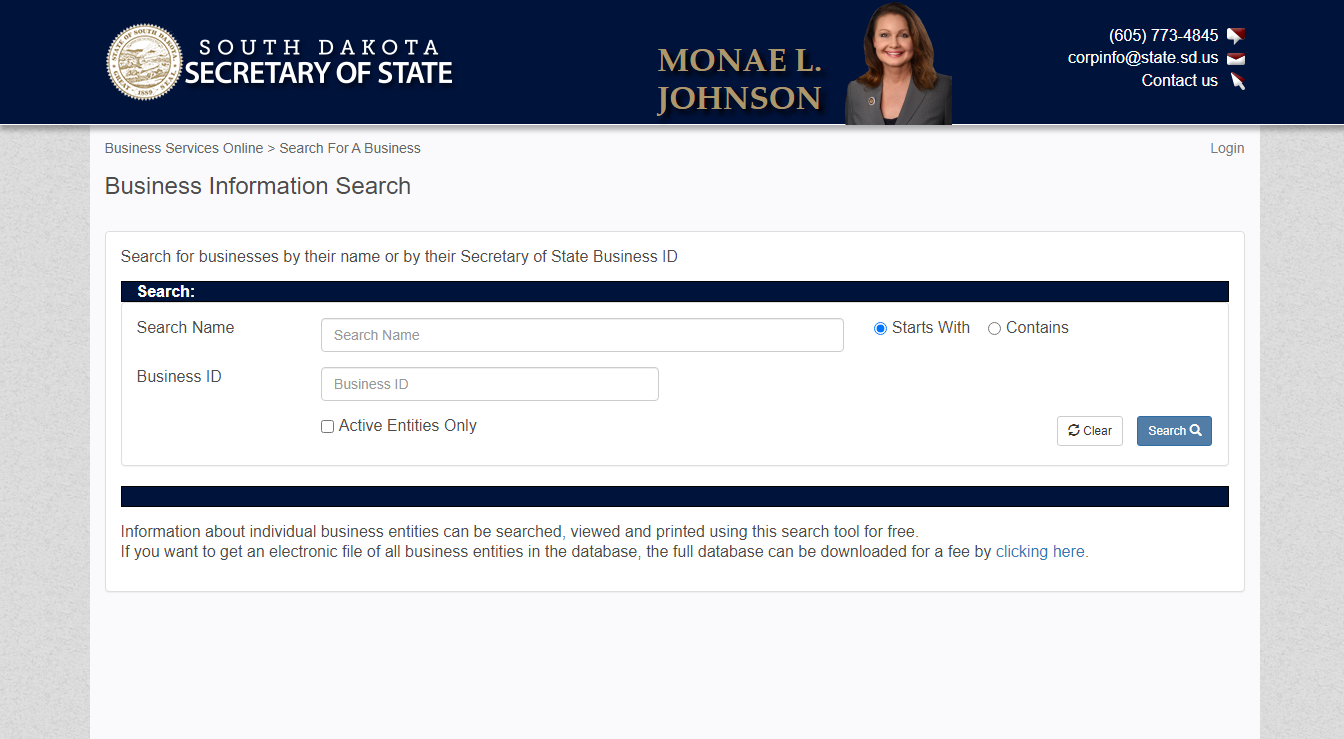 Information for the South Dakota corporation search is available at the official website of the South Dakota Secretary of State. The business entities you can search for include General Partnerships, Limited Partnerships, Limited Liability Partnerships, and Corporations.
Criteria for Business Name search in South Dakota is done using: Entity Name and Business ID. If you want a more detailed report, contact the South Dakota State Enterprise Department through email or telephone.
Step 2: Select Your Entity
After keying your options, click the search icon to generate your search results. If the name is registered, a list of names will be displayed as shown below.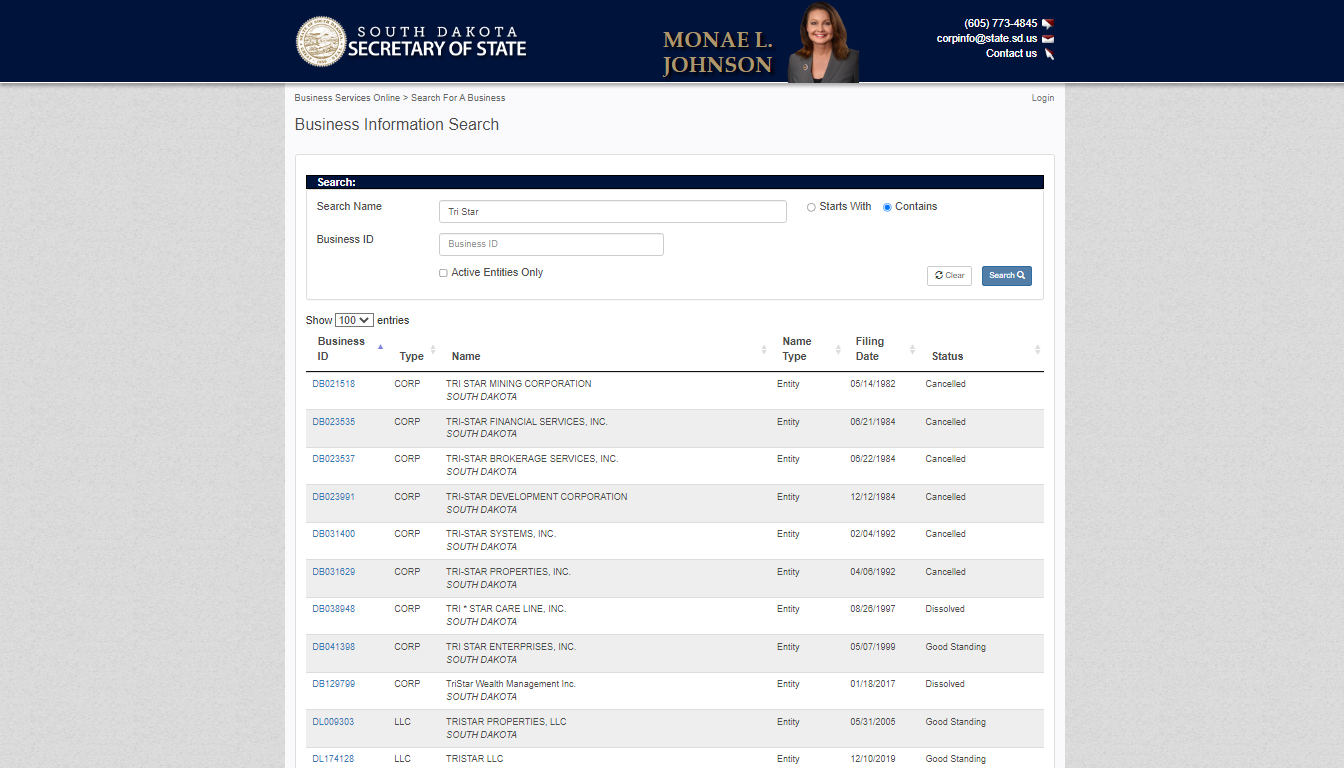 Go through the matching results one by one and sort them out. To make your lookup easier, the search results table displays the active and dissolved, withdrawn, revoked, and canceled entities from the database. It consists of the Business ID, Type, Name, Name Type, Filing Date, and Status. Once you have located the listing you are looking for, check the Business ID column and click the link. You will be redirected to the South Dakota Corporation Search/Information Page, showing the details of the specific entity.
Step 3: Download the information
This is the last step of the lookup LLC South Dakota. You now have all the registration details, including:
Business ID
Name
Status
Term of Duration
Principal Office
Shares of Stock
Initial Filing Date
Next Annual Report Due Date
Inactive Date
Mailing Address
Registered Agent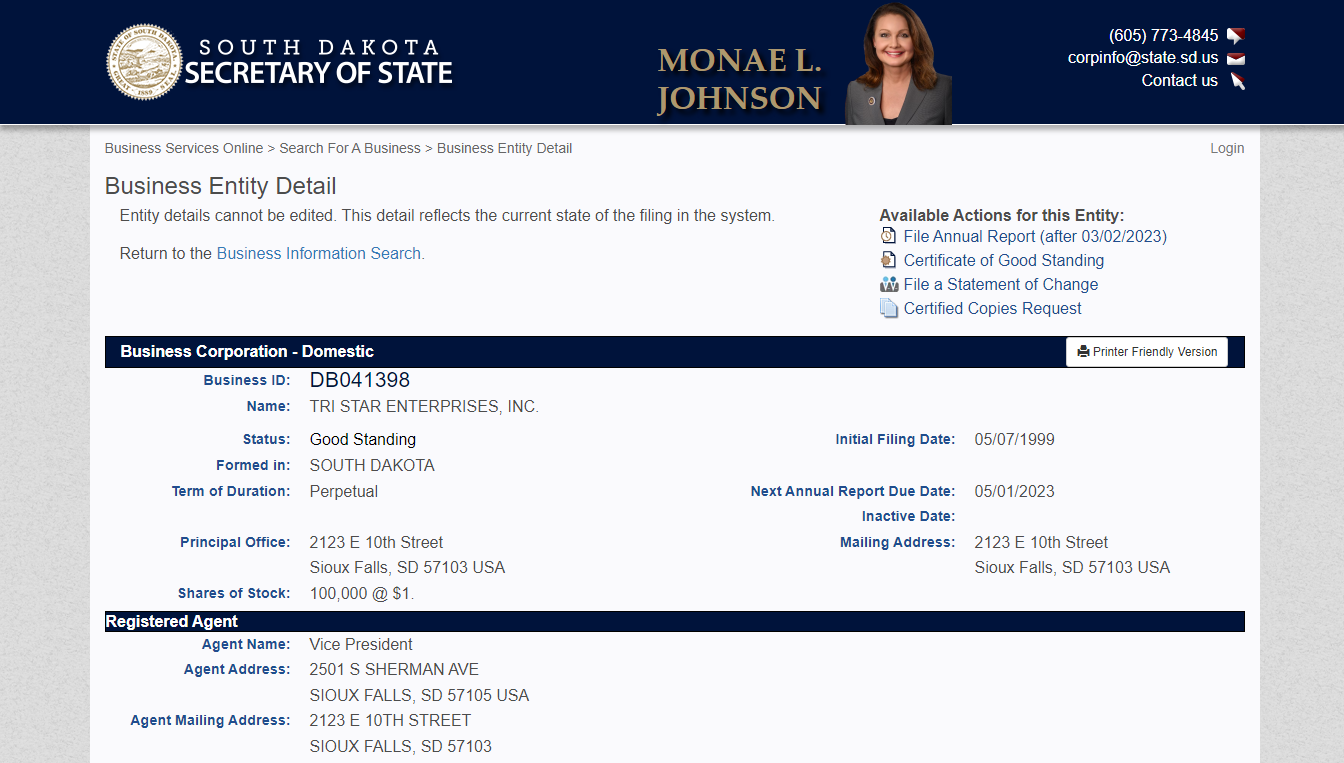 The South Dakota Secretary of State displays a detailed history of all annual reports submitted by the entities registered in its database.
References
Find a business entity in another state