When you want to get information about an entity or want to register an entity in Iowa, you need to understand how to use the Iowa Secretary of State Business database. Navigating it is an easy and simple process. The search field contains no filters for advanced search. You can only search either by Business Name or Business Number. The Iowa SOS provides certified copies upon request.
The SOS has made your search process simpler because you do not have to type a full or part of an entity name. Just key in the first few letters and click search to scan a large business database. For example, if you type the letters POW, you can get search results such as Power LLC, Power Distributors INC, and Powerstar LP.
The search result is delivered in a list of 25 business names at a time. It is arranged alphabetically but can rearrange based on fields. If you do not find the name you are searching for, click next or try using a different name. You may request a Certificate of Existence for $5. To conduct an LLC or Corporation search in Iowa, visit the Iowa Secretary of State Website. The types of organizations that you can search include:
C. Corporation
Limited Liability Company (LLC)
Professional Corporations
Business Corporations
Limited Partnership
Non-Profit Corporation (Inc.)
Public Benefit Corporation (PBC)
Iowa Secretary of State Business Lookup Contact Details
Website
https://sos.iowa.gov/
Phones
(515) 281-5204 (Voice) (515)-281-0145 (Toll-free) (515)-242-5953 (Fax)
Address
OFFICE ADDRESS: First Floor, Lucas Building
321 E. 12th St.
Des Moines, IA 50319 MAILING ADDRESS: Iowa Secretary of State
321 E. 12th St.
Des Moines, IA 50319
Hours
Monday — Friday: 8 a.m. to 4:30 p.m. (CST)
Email
Business: [email protected]
Iowa Business Entity & Corporation Search
Lookup Iowa Corporation Search
Step 1 – Visit the Iowa Secretary of State Website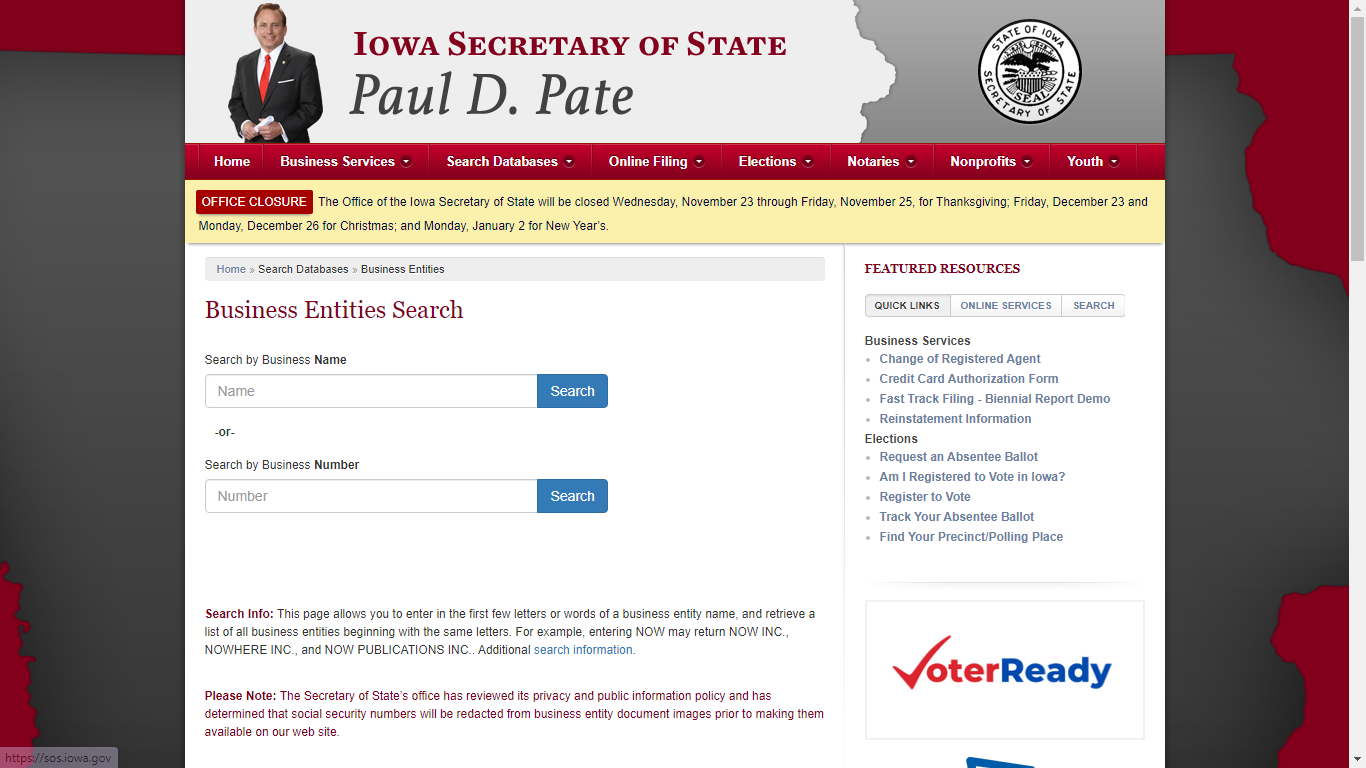 Information for Iowa corporation search is available at the official website of the Iowa Secretary of State. The business entities you can search for include C. Corporation, Limited Liability Company (LLC), and Professional Corporations.
Criteria for Business Name search in Iowa is done using: Business Name or Business Number. You may type the full name or the first few letters of the entity you are searching for. If you want a more detailed report, contact the Iowa Secretary of State through email or telephone.
Step 2: Select Your Entity
After keying your options, click the search icon to generate your search results. The search result will generate a detailed list of names, as shown below.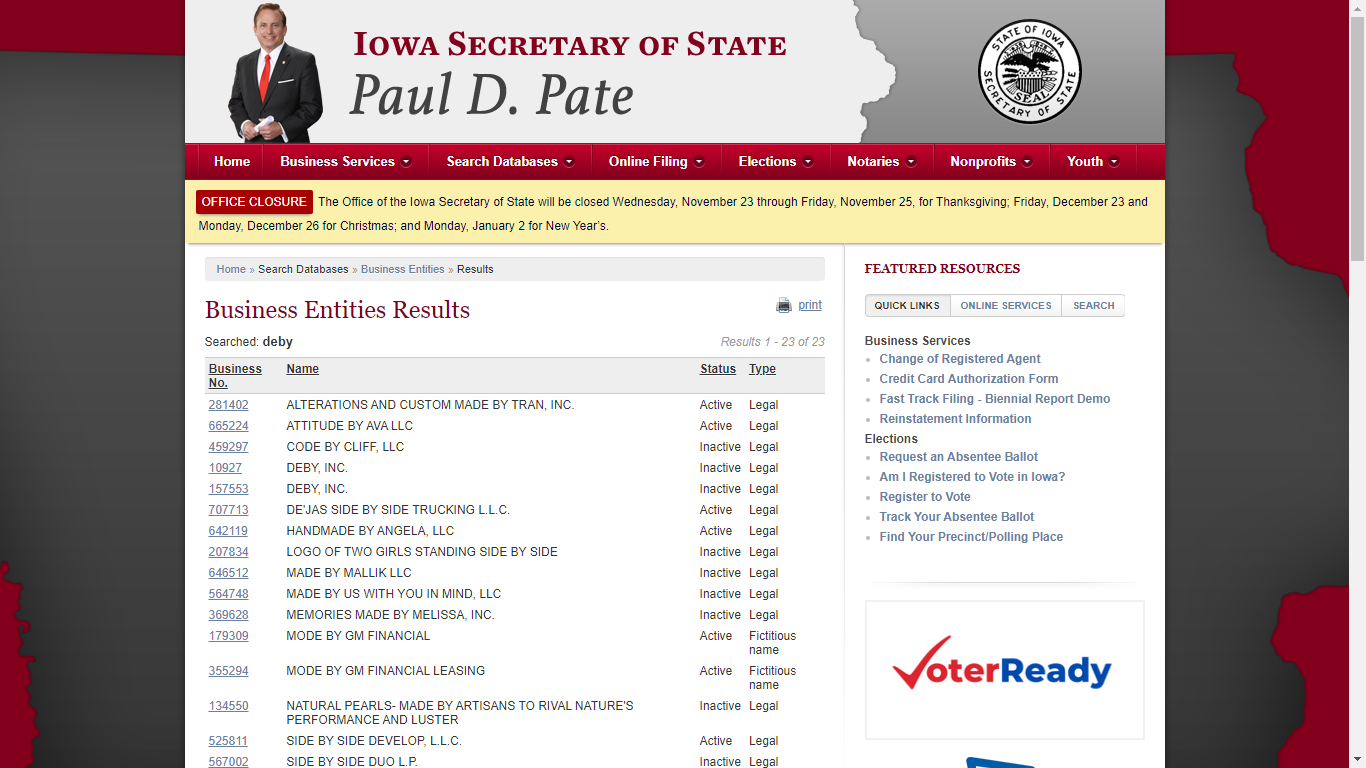 Go through the matching results one by one and sort them out. To make your lookup easier, the table issued by the Iowa Secretary of State displays both the active and inactive entities from the database. It consists of the Business Number, Name, Status, and Type. Once you have located the listing you are looking for, check the Business Number column and click the link. You will be redirected to the Iowa Corporation Search/Information Page, showing the details of the specific entity.
Step 3: Download information
This is the last step of the lookup LLC Iowa. You now have all the registration details, including:
Business Number
Legal Name
Status
Type
Expiration date
Effective Date
Filing Date
Chapter
Registered Agent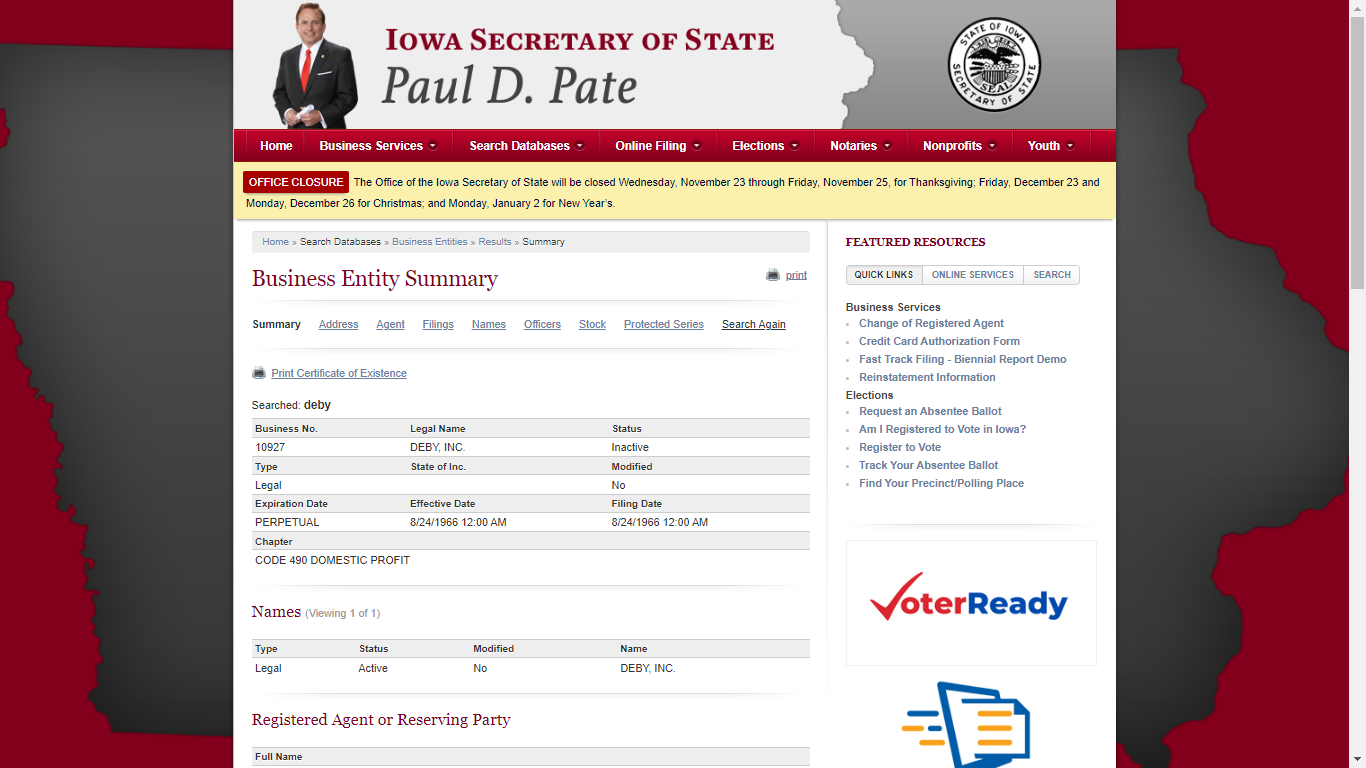 The Iowa Secretary of State allows you to print a certificate of existence for all entities stored in its database. You will be charged $5 for every printed copy of an entity search that you make.
References
Search Business Entity Forms and Fees
Find a business entity in another state