Wisconsin has a friendly business climate due to the variety of incentives it offers startups. With a low cost of doing business, you can start investment from scratch and it excels if you use best management practices. To do business in Wisconsin, you need to create a name and register it. Make sure no other person has registered the same name in the state. Wisconsin state allows the formation of different types of business structures.
You need to follow the guidelines for registering your preferred structure, such as Limited Liability Company (LLC), Corporation, Partnership, or DBA. Before you choose a structure to adopt, consider factors, such as tax liabilities, paperwork requirements, and personal liability protection. The main structure investors choose in Wisconsin is LLC because it has no double taxation and provides them with personal asset protection.
Before registration, it is a requirement by law to conduct a business entity name search. The purpose is to confirm if the name is available for registration. Business name search in Wisconsin is performed through the Wisconsin Department of Financial Institutions corporate records search database.
The Corporation is responsible for maintaining an updated record of all businesses registered in the state. Conducting a Wisconsin Business Entity Search is free. If the name is available, you may start the registration process immediately or reserve the name to register later at $15 for 120 days. To conduct an LLC or Corporation search in Wisconsin, visit the Wisconsin Secretary of State Website. The types of organizations that you can search include:
Partnership
Limited Liability Company
Corporation
Sole Proprietorship/DBA
NON-Profit
Wisconsin Secretary of State Business Lookup Contact Details
Website
https://sos.wi.gov/
Phones
(608) 266-8888 (Voice) (608) 266-3159(Fax)
Address
OFFICE ADDRESS: 345 W. Washington Ave., 3rd Floor,
Madison WI, 53703 MAILING ADDRESS: P O Box 7846
Madison, WI, 53707-7846
Hours
Monday — Friday: 7:45 a.m. to 4:30 p.m. (CST)
Email
Business: [email protected]
Wisconsin Business Entity & Corporation Search
Lookup Wisconsin Corporation Search
Step 1 – Visit the Wisconsin Department of Financial Institutions corporation records website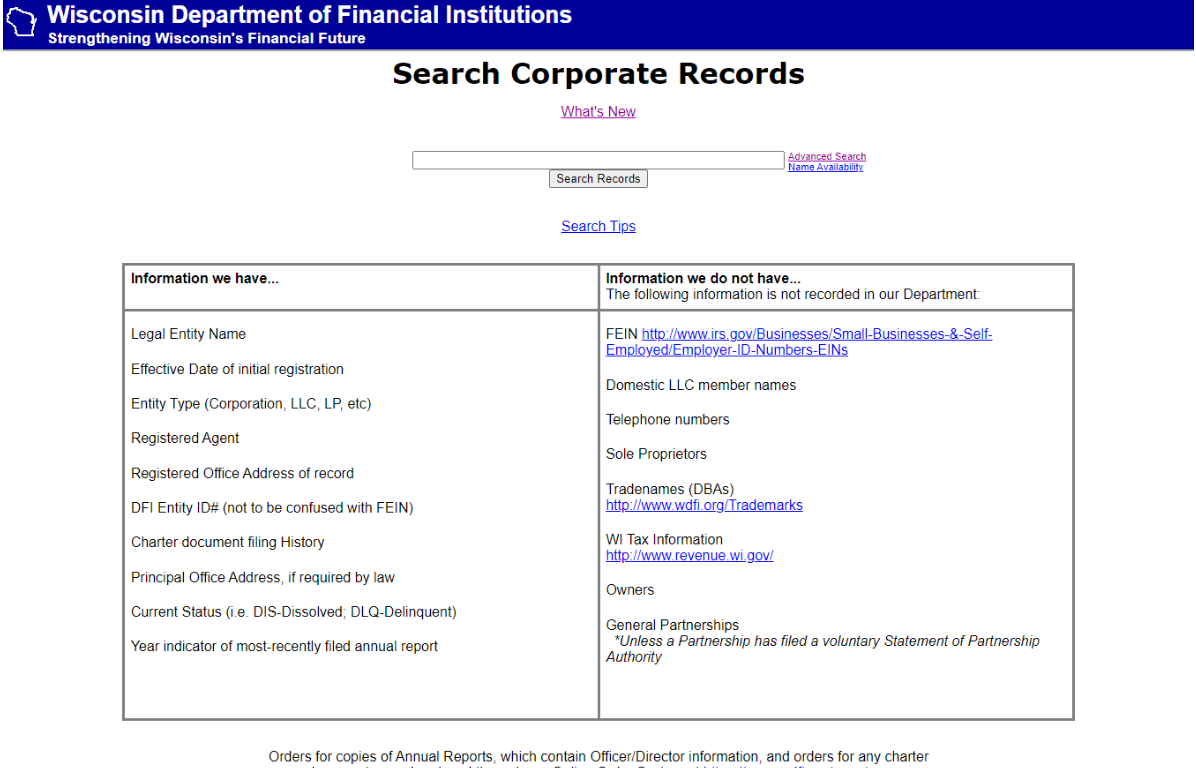 Information for the Wisconsin corporation search is available at the official website of the Wisconsin Secretary of State. The business entities you can search for include Partnerships, Limited Liability Company, Corporation, and Doing Business As (DBA).
Criteria for Business Name search in Wisconsin is done using: Entity Name. If you want a more detailed report, contact the Wisconsin Department of Financial Institution corporate records through email or telephone.
Step 2: Select Your Entity
After keying your options, click the search icon to generate your search results. If the name is registered, a list of names will be displayed as shown below.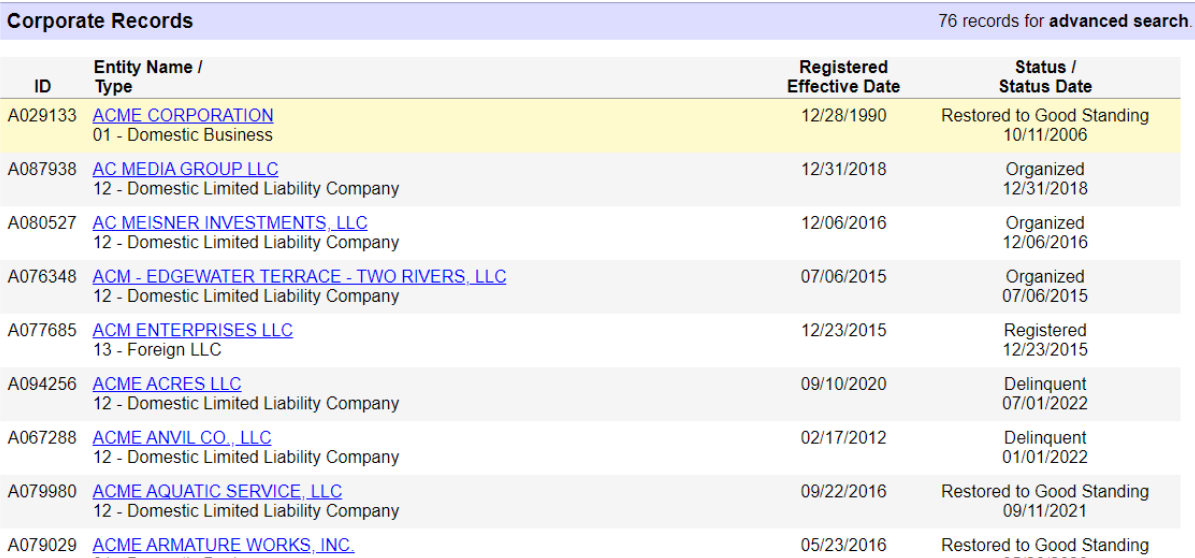 Go through the matching results one by one and sort them out. To make your lookup easier, the search results table displays the active, dissolved, and delinquent entities from the database. It consists of the ID, Entity Name/ Type, Registered Effective Date, and Status/ Status Date. Once you have located the listing you are looking for, check the Entity Name/ Type column and click the link. You will be redirected to the Wisconsin Corporation Search/Information Page, showing the details of the specific entity.
Step 3: Download the information
This is the last step of the lookup LLC Wisconsin. You now have all the registration details, including:
Entity ID
Registered Effective Date
Period of Existence
Status
Status Type
Status Date
Entity Type
Annual Report Requirements
Registered Agent Office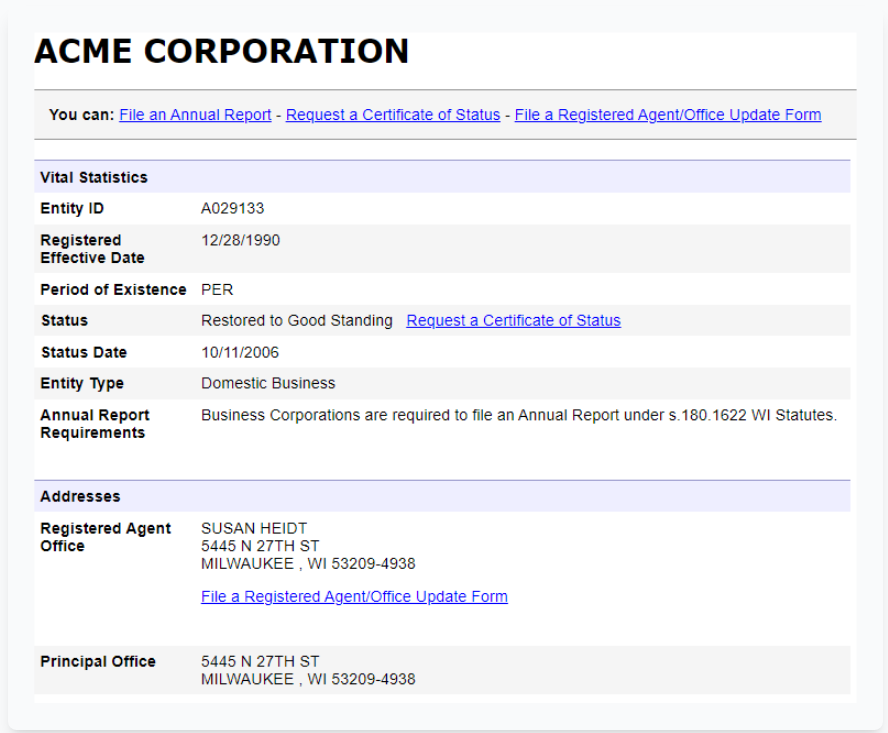 The Wisconsin Secretary of State allows you to request a Certificate of Status or order a document copy of business entities in your search results at $10 per document.
References
Find a business entity in another state